PM get briefed over Indo-Pak relations by Pak official to India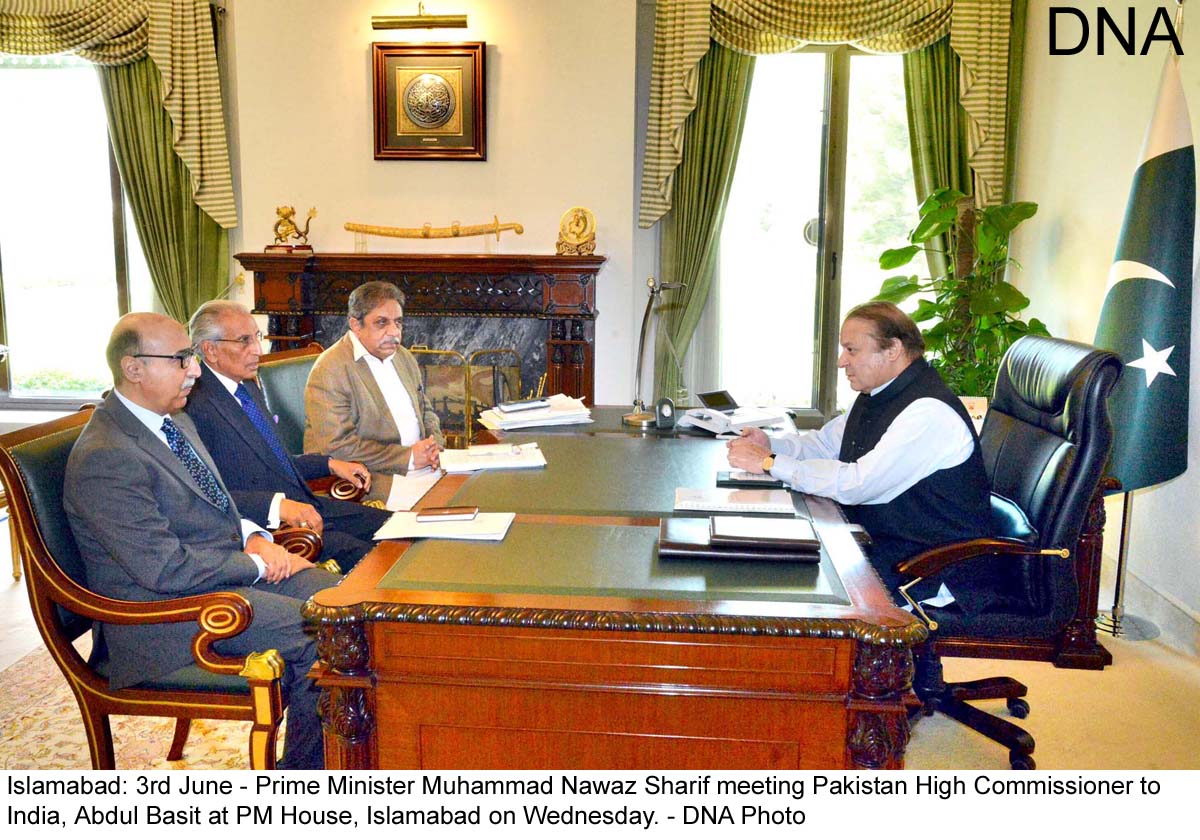 ISLAMABAD: Pakistan High Commissioner to India Abdul Basit called upon Nawaz Sharif in Islamabad on Wednesday for a briefing on the state of Pakistan-India relations.
Basit, who arrived from New Delhi early this morning, held a meeting with senior officials at the Foreign Ministry, briefing them about statements made by different Indian political leaders, including the spokesperson of the India Ministry of External Affairs.
The High Commissioner to India also briefed Foreign Office officials about the future of Pak-India relations in light of recent developments between the two countries.
A meeting with the PM was held after consultations concluded.
The Prime Minister said that Pakistan is keen to develop good relations with India on the basis of sovereign equality as well as mutual respect and interest.
Special Assistant to the Prime Minister Tariq Fatemi was also present during the meeting.
The series of meetings in Islamabad follows a series of strongly-worded back-and-forth statements between Pakistani and Indian politicians.
Adviser to the Prime Minister on Foreign Affairs and National Security Sartaj Aziz on Sunday said Pakistan's enemies would not succeed in sabotaging the China-Pakistan Economic Corridor (CPEC). and that India's desire for regional hegemony would not be allowed.
Similar statements from Interior Minister Chaudhry Nisarcame on Tuesday, who said: "Coupled with the recent statement of the defence minister of India which blatantly and unashamedly accepted responsibility for terrorism in Pakistan, this recent statement of intent by the Indian prime minister clearly shows India's intentions not only to destabilise and hegemonise Pakistan but also to use any means at its disposal to keep Pakistan backward and underdeveloped."
Prime Minister Nawaz Sharif also spoke about India's objection to the $46 billion CPEC project, saying that Chinese leadership had also rejected Delhi's stance.
It is difficult for the enemy to see Pakistan moving forward on the path of development, "but we will achieve the goal of progress and prosperity".