PM announces Voluntary Tax Compliance Scheme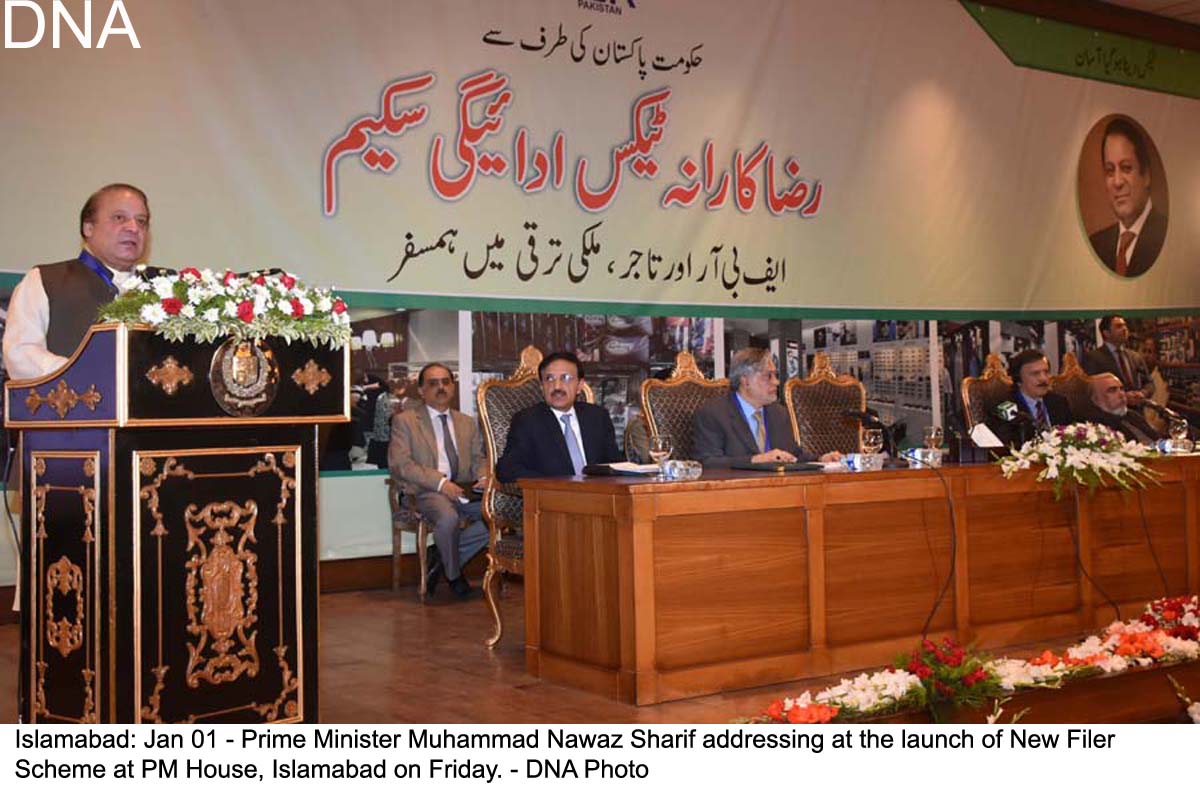 ISLAMABAD, 01 JAN, (DNA) – Prime Minister Nawaz Sharif on Friday announced "Voluntary Tax Compliance Scheme" in Islamabad for registration of non-filer traders.
Addressing the ceremony, Prime Minister Nawaz Sharif said the Government has taken the challenges head on to steer the country out of crisis and put on the path of progress and prosperity.
The Prime Minister said we have to defeat challenges at every cost. He said as a result of measures taken by the Government, the situation is much better that it was three to four years ago.
Nawaz Sharif said the Government believes in resolving the issues with understanding and consultation.  He said this spirit will take the country forward on the path of progress and prosperity. He said it will also help end problems of the country like terrorism, poverty, unemployment.
In his speech, Finance Minister Ishaq Dar said the scheme would be presented in the parliament and after the approval beneficiaries of the scheme will get legal cover.
Ishaq Dar said everyone except members of Parliament and provincial assemblies can take benefit of the scheme. He said those convicted in terrorism, money laundering and under anti-narcotics laws also cannot take benefit of this scheme.
Special Assistant to Prime Minister on Revenues, Haroon Akhtar Khan in his speech said number of tax filers have been increased from seven hundred thousand to one million.  He said SROs worth 223 billion rupees have been abolished and no concessionary SRO has been issued.  He said now SRO can only be issued with the approval of elected Parliament.
He said for the first time a separate system has been introduced for non-filers.  He said the scheme would benefit the traders who have not file their returns for the last ten years.
He said those filed their return of worth one million rupees have not required to file wealth tax under the scheme.
Speaking on the occasion Chairman Anjuman-e-Tajran Khawaja Shafiq fully endorsed the voluntary tax compliance scheme would work for its success. =DNA
===========