Playing in Pakistan an important moment for me, Usman Khawaja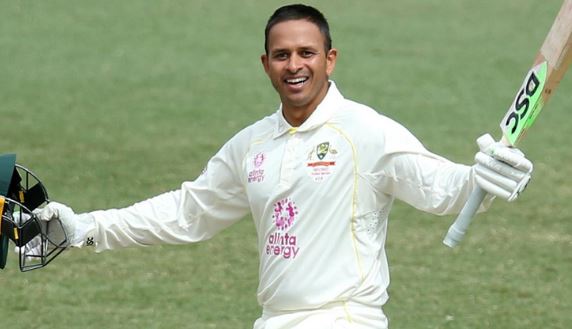 AFZAL JAVED 
ISLAMABAD, Feb 28: Pakistan-born Australian cricketer, Usman Khawaja said that he has always wanted to play in Pakistan, being born in Pakistan and now playing a historic Test here is an important moment.
Khawaja, who was speaking in virtual press conference which was supervised by Australian Cricket Team media manager Brian Murgatroyd, said that Rawalpindi is his home ground, there are many pictures and memories of childhood standing in Rawalpindi stadium, but now the difference is that I will play for Australia in his home ground, but Pakistani cricket fans always praise good cricket.The 35-year-old Usman Khawaja who was born in Islamabad is part of the Australia team on their first tour of Pakistan in 24 years.
Usman Khawaja expressed hope that he would open the Rawalpindi Test, and he is sure that the tour of Pakistan will be memorable, as both the teams play excellent cricket.
He said that he said that the pitches of Abu Dhabi and Pakistan are different from each other, Australia has never played in Pakistan so there will be a new experience as Rawalpindi pitches are favorable for fast bowlers but this time different pitches are expected. The Australian batter opened up about his childhood memories in Pakistan, team preparation for the series, and the conditions in the sub-continent. While speaking about the first match at Rawalpindi Cricket Stadium scheduled on March 4, the left-handed batter said that Rawalpindi is a home ground for him but he will be playing for Australia.
He further said that cricket fans in Pakistan always appreciate good cricket and he gets a lot of support from Pakistanis.
Talking about Pakistan's team composition, Khawaja said Babar is a world-class cricketer and has been winning matches for his country. He also said that the middle order batter, Azhar Ali has a good record against Australia as he had scored a double hundred against the Aussies in Australia.
While he expects to receive a warm welcome in Rawalpindi, Karachi and Lahore, Khawaja also thought Pakistan fans would show their appreciation for the quality cricket of the visitors. "I've got a lot of support here in Pakistan. I think they'll support me, they'll hope I get runs, but they'll be hoping Australia get smashed at the same time," he said with a smile.
"But I don't expect a hostile crowd. Pakistanis love their cricket, and they appreciate good cricket, and I think that's what they'd be hoping for."
Australia's Test squad has already arrived in Islamabad for three Tests starting from March 4 at Rawalpindi Cricket Stadium. The visitors will also play three ODIs and one T20I against Pakistan.