PCFA PUNJAB celebrates 74th National Day of China in Lahore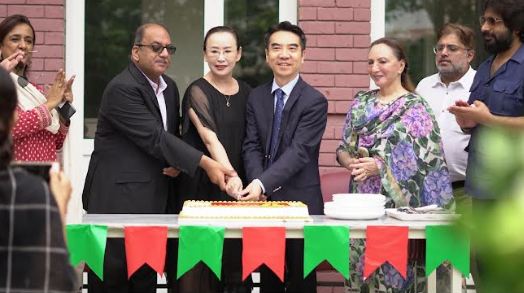 Unlocking Prosperity: Pakistan Looks to China for Socio-Economic Inspiration!
Sister Cities Strengthen Bonds: Xian and Lahore Unite!
DNA
Lahore, 25 Sept: China is a trusted friend and successful global player, we should learn from the China's experience in various walks of life to strengthen our socio economic development activities. This was stated by the speakers at a cake cutting ceremony organized by Pak-China Friendship Association (PCFA) Punjab at Lahore Grammar School, Wapda Town, Lahore this morning.
The aim of this ceremony was to enhance people to people interaction and appreciate the initiative taken by the Chinese leadership for shared future philosophy which is successfully implemented by the Chinese across the globe for peaceful co-existence. The PCFA Punjab event was graced by Mr. Du Yue, Head Political Affairs, Consulate General People's Republic of China in Lahore, Madam Chang Xiaonong, Vice President Pakistan China Chandong Chamber of Commerce (PCSCC) at Lahore, Mrs. Zeenat Amir Rokhri, President PCFA Punjab, Mr. Usman Shahjahan, General Secretary PCFA Punjab, Syed Ali Nawaz Gilani, Secretary-General PCFA Khyber Pakhtunkhwa, Mr. Amir Bhatti, Director Indigo Canal. During the ceremony it was also discussed that we should enhance people to people interaction especially exchange visits with sister cities. Historic city of Xian (capital city of Shaanxi province of China) and Lahore (capital city of Punjab province Pakistan) are enjoying sister city relationship since decade.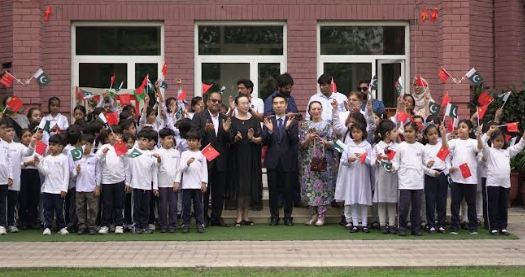 The Chinese Consulate General in Lahore hosted a well-attended diplomatic reception last afternoon in Lahore, which was attended by who is who in Lahore a part from Governor Punjab, Chief Minister and good number of Federal and Provincial ministers. Acting Council General Mr. Cao Ke warmly received all guests and spoke very well. As Chinese consulate general Zhao Shiren was away to china and his esteemed initiative in Punjab Province yieldly fruitful result, the gathering shows Chinese diplomatic social interaction with people's of Lahore. This is appropriate time that we should benefit each other with our rich cultural civilization, economic and agricultural growth.
PCFA Punjab proposed that we should enhance the Chinese language classes across the province which will help out masses to understand China and Chinesephilosophy for economic development and prosperity. (Comment: Syed Ali Nawaz Gilani).