COAS Asim Munir's inspiring address ignites hope at KPK Women Symposium – 2023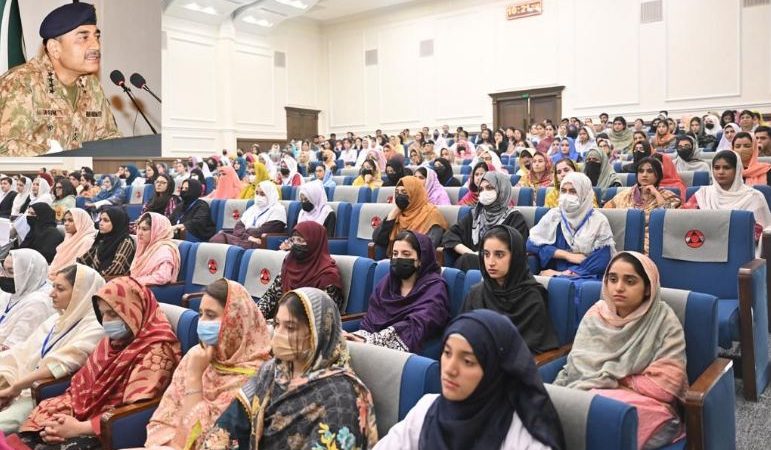 PESHAWAR, SEPT 27 /DNA/ – General Syed Asim Munir, NI (M), Chief of Army Staff (COAS) visited Peshawar today and had an interactive session with the respectable women of Khyber Pakhtunkhwa during 'KPK Women Symposium – 2023'.
COAS also attended meeting of the Provincial Apex Committee along with Caretaker Chief Minister KP, Muhammad Azam Khan.
While addressing the participants of the women symposium, COAS said that, women have played a positive and an important role in the progress of country throughout the history of Pakistan.
COAS highlighted that women's role in Pakistan's progress and development is quintessential and most important.
COAS remarked that women of KPK have continued to face multi-faceted challenges due to prolonged fight against terrorism, however, they have proven their resilience, commitment and bravery at the face of all odds.
COAS encouraged the women to take part in the progress and development of KPK and Newly Merged Districts.
During the Apex Committee meeting, COAS was briefed about overall security situation including initiatives against smuggling, hoarding and drug trafficking.
The participants of the meeting affirmed that state institutions and people are united for the protection of life and property of citizens.
Participants also paid rich tribute to the Shuhada and their families.
COAS concluded "we have to synergise our efforts for peace and prosperity of our beloved country. Pakistan Army will continue to play its role in ensuring peace and stability in KPK to provide a secure environment for economic development".
Earlier upon arrival, COAS was received by Commander Peshawar Corps.