Participants of 53rd PN Staff Course at Pakistan Navy War College visit IPS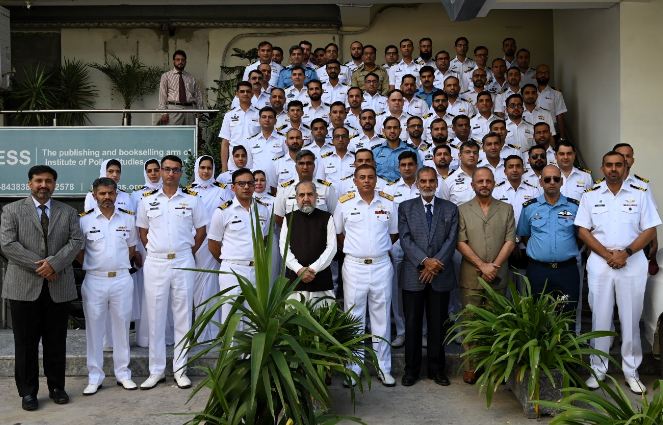 DNA
Islamabad, 4 OCT: Participants of the 53rd PN Staff Course at Pakistan Navy War College (PNWC), Lahore, visited the Institute of Policy Studies (IPS), Islamabad, to gain exposure to independent think tanks and their role in the contemporary world and in enhancing strategic capabilities.
The delegation of 79 officers, headed by Commodore Ehsan Ahmed Khan SI(M), comprised faculty members of PNWC and participant officers of the Staff Course.
Vice Chairman IPS Ambassador (r) Syed Abrar Hussain introduced IPS, its mandate, and its research domains to the delegates, while General Manager Operations Naufil Shahrukh gave a detailed presentation about the Institute's activities to promote research, dialogue, publishing, and human and technological development activities for policy and governance with particular reference to its maritime policy desk.
While addressing the officers on the 'Role of Think Tanks in the Contemporary World', Chairman IPS Khalid Rahman explained how the world and warfare have changed over the centuries. He described how building a case and justifying the cause of waging war has become necessary.
He said that, unlike the past several centuries, along with physical might, the strength and propagation of indigenous narrative have also become a significant aspect of warfare in the contemporary world.
In this regard, an effective role is performed by the research organizations and think tanks which filter information in this era of information overload and support indigenous opinions and analyses through participating in the policy process and deriving insights from a pool of experts, intellectuals, and practitioners.
He further emphasized that in today's world, where merit and morality are being sacrificed against money and the market, wars and conflicts will not stop happening. That's why the militaries and nations need to ensure preparedness through narrative and perception management as well.
Speaking on the occasion, Commodore Ehsan stressed the importance of education and learning. He said that it is critical to know ourselves before the adversary in order to construct and promote indigenous narratives. He accentuated that the indigenous narrative cannot be propagated without reflection on present norms and without writing and talking about them.
At the end of the event, the delegation thanked IPS officials on behalf of PNWC for hosting the delegates.