Pakistan's heart dances with joy for Turkey: Envoy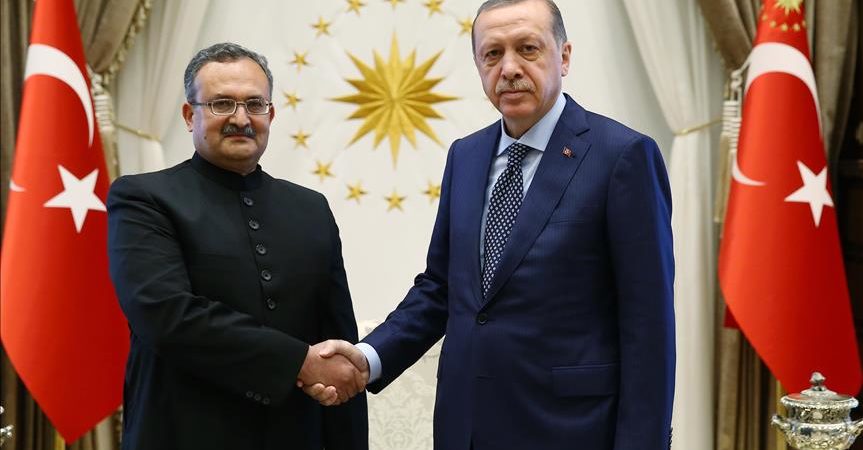 ANKARA, SEPT 27 (DNA) – Pakistan's ambassador to Turkey Syrus Sajjad Qazi said on Wednesday that friendship between the two countries is unparalleled.
"If something good happens to Turkey, it is the Pakistani heart that dances with joy," he said, during his first interview as ambassador in Ankara.
Speaking about economic relations, he said that both sides are working on a free-trade agreement which will be finalized soon.
"[The agreement] will equally benefit both sides," he said, adding that he hoped trade volume between the two countries crosses the billion-dollar mark as it once had in 2011.
Qazi said the two countries had collaborated on various defense projects.
"Right now the biggest ship in the Pakistan Navy — not a combat ship but a supply ship — has been built in Turkey. Meanwhile, Turkey has purchased 52 primary aircraft trainers from Pakistan. We are looking to purchase navy corvettes from Turkey," he said.
He added that the issue of Fetullah Terrorist Organization (FETO) was discussed when the foreign minister of Pakistan visited Turkey earlier this month.
Pakistan has taken action against the schools and foundations linked to FETO.
"The government will ensure that no stone is left unturned to deal with the problem and ensure that these people are no longer in Pakistan," Qazi said.
Turkey holds FETO responsible for last July's defeated coup which martyred 250 people and injured more than 2,000.
FETO began to spread outside Turkey in the early 1990s, when it opened schools in the former Soviet republics in central Asia.
The organization has around 1,000 schools and higher education institutions around the world.
Qazi supported Turkey's stance on the Rohingya crisis, which according to the UN has forced more than 436,000 people from Myanmar to cross into Bangladesh.
"We have been following very closely the leadership role of Turkey and its position as chairman of the Organization of Islamic Cooperation (OIC) as well [as the stance] President [Recep Tayyip] Erdogan has taken in his personal capacity," he said.
"We fully support the measures that Turkey is taking to highlight the issue."
The refugees are fleeing a fresh security operation in which security forces and Buddhist mobs have killed men, women and children, looted homes and torched Rohingya villages. According to Bangladesh, 3,000 Rohingya have been killed in the crackdown.
He criticized U.S. President Donald Trump's new policy in Afghanistan, saying that Pakistan had lost 60,000 civillians while close to 6,000 soldiers in the war on terror.
"We think the approach is fundamentally flawed", Gazi said, "As long as there is no peace in Afghanistan, Pakistan will continue to pay a tremendous price."
Last month, Trump announced a new phase in the 16-year campaign in Afghanistan, which, while short on detail, pledged further U.S. military involvement against the Taliban.
Trump also criticized Pakistan for providing "safe havens for terrorist organizations" and called on Pakistan's regional rival India to become further involved in Afghanistan.
The apparent switch from Pakistan, a long-standing U.S. ally, to India led to the cancellation of three high-level meetings with U.S. officials by Islamabad and the passing of a resolution in parliament criticizing Washington's new policy as hostile and threatening.=DNA
============