Pakistan's attempts at peace met with obstruction by India: Jilani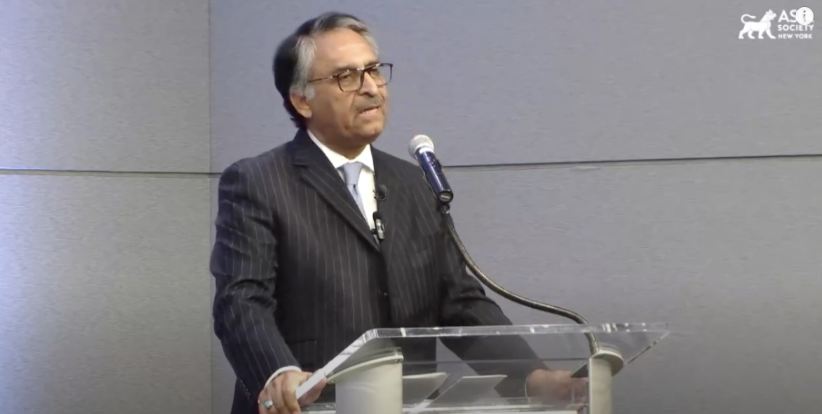 New York: Pakistan's efforts for "positive outreach and peace overtures" with India have been met with been met with an obstrucitve atitude, said Interim Foreign Minister Jalil Abbas Jilani on Wednesday.
Speaking at the Asia Society conference in New York, he stressed on the need for "constructive dialogue" on longstanding conflicts such as the Kashmir dispute for better conditions while adding that "Pakistan desires peaceful and cooperative neighbourly ties with India".
He referred to the opening of the Kartarpur corridor for visa-free visits for the Indian Sikh community as well as his predecessor's visit to India for the Shanghai Cooperation Organisation (SCO) as examples of Pakistan's goodwill gestures.
The interim minister regretted India's "abhorrent human rights violations" against "innocent Kashmiris at the hands of Indian security forces", "worsening religious extremism especially against Muslims", which he said have further "deteriorated relations between the two countries".
For regional peace and stability, constructive dialogue is necessary on all outstanding issues, he stressed, but India's "anti-Pakistan theatrics for domestic elections" are taking the two countries away from this objective.
China
With regards to China, the interim foreign minister stressed that Pakistan's relations with the East Asian country are anchored in strong trade and economic ties as it remains our "largest trading partner" and "a major investor, especially in infrastructure and energy sectors".
However, he underscored, that Pakistan's relationship with China is "not a zero-sum game and not at the expense of our relations with any other country. Least of all the United States of America, with which we have robust ties and a relationship of trust".
He referred to the China-Pakistan Economic Corridor (CPEC) as a flagship project aimed at enhancing connectivity. "We believe we can have close and cooperative relations with both the US and China".
Afghanistan
Jilani emphasised that Pakistan has the greatest stake in ensuring peace within Afghanistan and its relations with regional and international partners.
"This objective lies at the heart of our efforts to directly engage with the Afghan interim government, as well as cooperate with [the] international community on Afghanistan," he said.
The interim minister said that Pakistan has been hosting Afghan refugees for almost four decades and houses as many as four million of them. "Afghan authorities and the international community continue to work to ensure that these Afghan refugees, whenever the situation settles down, go back to contribute to the economic development of their own country, which is Afghanistan," he added.
"The number of refugees that we have hosted over the last several decades, is perhaps unprecedented [as compared to] anywhere in the world," said Jilani, adding that Pakistan is proud to have done so.
He underscored that Pakistan shares the international community's concerns "over the human rights situation in Afghanistan, especially issues related to women's rights, girls' education, and women's employment".
Adding that the Pakistani government will continue to raise these issues with the incumbent Afghan Taliban administration, he urged the international community to "delink aid from political considerations".
Engaging the Afghan government "is much more likely to deliver results" instead of "coercive measures", he said, highlighting the humanitarian crisis in Afghanistan.
The interim minister asserted that Pakistan condemns all forms of terrorism including state-sponsored violence against religious minorities and state terrorism but it "rejects any attempt to politicise the issue of terrorism by linking it with certain countries, communities, region and religion".
"The entire global community is the victim and we have to act together to uproot this menace," he said.