Pakistan women's team to host South Africa in first-ever home series in September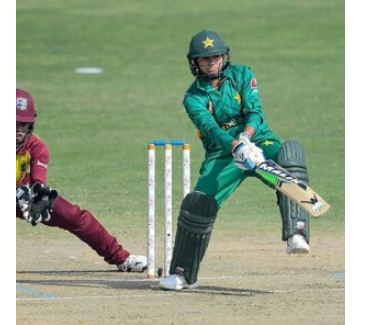 The South Africa women's cricket team will undertake their first-ever tour to Pakistan beginning this September for three one-day-internationals (ODIs) and three T20Is that will kickstart a busy 2023-24 international cricket season for Nida Dar's team, the Pakistan Cricket Board (PCB) said in a press release on Friday.
The PCB said that the South African side will be the fourth high-profile national women's side to tour Pakistan in recent times.
"In January 2019, West Indies women played three T20Is in Karachi, while in May and November 2022, Sri Lanka and Ireland played ODIs and T20Is in Karachi and Lahore, respectively," it said.
According to the PCB, the home series against South Africa will be one of the five ICC Women's Championship series Pakistan will participate in during the 2023-24 season.
South Africa will play their three ICC Women's Championship ODIs in Karachi from September 1-14.
In October, Pakistan will travel to Bangladesh, followed by tours to New Zealand in November and England in May 2024. Prior to their tour to England, Pakistan will host the West Indies in April 2024.
Captains
The home series against South Africa will be all-rounder Nida Dar's first series as captain.
"The next 12 months will be incredibly busy for the Pakistan women's cricket team and I look forward to the upcoming assignments with excitement and anticipation," Dar said.
She stated that the matches will "contribute significantly" in PCB's endeavours to gain experience and exposure for the players, adding that it will help narrow the gap with the "front-runners".
"I am hoping to make it a memorable one for myself by not only completing a century of ODIs but also assisting the side to collect valuable ICC Women's Championship points so that we can finish in the upper half of the draw," she said.
South African skipper Suné Luus, who captained South Africa in the ICC Women's T20 World Cup 2023, said that she was "extremely excited to be back" in the country for a bilateral series having featured in the Women's League Exhibition matches in Rawalpindi.
"I was truly impressed by the warm hospitality and the passionate cricket fans. The players were very friendly, it was really great to be there and experience the country," she said according to the press release.
"The ODIs being a part of ICC Women's Championship is very important for women's cricket, and we all are looking forward to it," added the South African skipper.
Pakistan's schedule
Sep 1– First T20I v South Africa
Sep 3 – Second T20I v South Africa
Sep 5 – Third T20I v South Africa
Sep 8 – First ODI v South Africa
Sep 11 – Second ODI v South Africa
Sep 14 – Third ODI v South Africa
Oct/Nov 2023 – Pakistan tour to Bangladesh (three ODIs & three T20Is)
Nov/Dec 2023 – Pakistan tour to New Zealand (three ODIs & three T20Is)
Apr/May 2024 – West Indies tour to Pakistan (three ODIs & five T20Is)
May 2024 – Pakistan tour to England (three ODIs & three T20Is)