Pakistan-Russia Expands Strategic Cooperation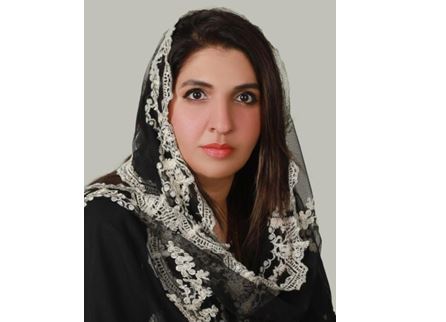 Gul.i.Ayesha Bhatti
PhD scholar International Relations
Henry John Temple Palmerstone stated during the House of Commons session on March 1, 1848, "we have no eternal allies, and we have no perpetual enemies. Our interests are eternal and perpetual, and it is our duty to follow such interests".
Current global circumstances and imperatives have driven Russia to turn to the East and engage in regional connectivity with the Asian States, alongside, reestablishing ties with its former adversary Pakistan. Simultaneously, out of the US sphere, Pakistan is also looking for reliable friends in the neighborhood to work on regional connectivity and stability. Now the million-dollar question is whether both states are going to ignore the shadows of the past and are eager to start a new journey.
Since Pakistan's independence in 1947, bilateral ties between Pakistan and the USSR have remained strained. As Pakistan opted to join the Western bloc by signing its first defense agreement with the US on May 9, 1954, ties between the two countries began to deteriorate in the early 1950s. After Pakistan joined the South East Asia Treaty Organization (SEATO) in January 1955, the situation deteriorated further. SEATO was founded largely to combat communism, which meant combating the Soviet Union since it served as the global symbol of the communist movement. The Soviet Union strongly disapproved of Pakistan's choice of foreign policy. Pakistan had established its place in the Cold War by joining SEATO, and this marked the start of a lengthy competition between the two countries.
In later years, Pakistan's role in the 1960s U-2 spy plane incident, the 1970s China-US rapprochement, and 1980s afghan war against soviet increased this rift between the two. Later on, Due to Pakistan's recognition of the Taliban administration in Afghanistan and its US-centric foreign policy, ties between Pakistan and Russia throughout the 1990s remained largely cold.
In the first decade of the twenty-first century, Pakistan and Russia's bilateral ties began to improve. Pakistan chose to break its ties with the Taliban regime and join the global alliance fighting terrorism, these efforts, however, couldn't guarantee a faithful alliance from the US. Pakistan was upset with Obama's Drone policies and neglecting Pakistan's efforts for the War on Terror at the cost of its own national security. Further the increasing rift due to Obama's Pivot to Asia policy which brought the US close to India to counter China in the region. While keenly observing the shift in alliances in the region, Pakistan chose to revive its relations with the neighboring states. Regional cooperation was the mantra that bought Russia and Pakistan to forget old conflicts and revive new ties. Therefore, high-level state visits began to occur, the two nations' relations continued to show positive indicators.
In April 2001, Russian Deputy Foreign Minister Alexander Losyukov travelled to Pakistan as part of a state visit. In 2002, Pakistan's President, General (Retd) Pervez Musharraf, visited Moscow in return. The goal of these high-level visits and meetings was to strengthen bilateral cooperation between the two states in the economic, cultural, development, and technology sectors as well as to launch joint efforts to improve regional peace and stability. This was the first visit by a head of state or government from Pakistan in thirty years.
As its ties with the United States deteriorated, Pakistan started to regard the Shanghai Cooperation Organization (SCO), which is governed by China, as a chance to forge stronger ties with both Russia and China on common ground. In 2004, The Tashkent Summit established a regional organization to combat terrorism, separatism, and extremism while also fostering greater economic growth. Later, the SCO expanded its geographical reach to encompass India, Pakistan, and Afghanistan. Russia being the senior member of the SCO always tried to avoid indulging in Pakistan-India rivalry. After the Pulwama attack, India tried to raise the issue at the SCO but Russia refused to address the issue at the SCO summit and Pakistan took a positive step toward bilateral relations between Russia and China.
Similarly, when we look into the strategic interest Russia has started observing in Pakistan is directly linked to Pakistan's geostrategic position and its vital role in the regional strategic environment. In the sake of maintaining the balance of power during this, Russia now most likely recognizes Pakistan's justifiable need for defense. In the beginning, the Russian position used to be that India was the best source of hegemonic stability in South Asia. This pragmatic shift likely resulted from the knowledge that Pakistan, which is nuclear-armed, would steadfastly reject India's hegemony and that China would continue to guarantee Pakistan's security by maintaining an adequate conventional and nuclear deterrent to counterbalance India. In this scenario, India and Pakistan are supposed to indulge themselves in an arms race, and Russia doesn't want to fall behind. However, Pakistan is looking for State-of-the-art military weapons to buy from Russia but on affordable prices.
Moving further towards regional connectivity, Putin suggested a "Greater Eurasia Partnership" in 2016, including the EAEU members, China, India, Pakistan, Iran, and the Commonwealth nations. Since 2015, Moscow and Beijing have signed agreements signaling cooperation and regional integration because the BRI and the EAEU have the same objective of uniting Eurasia through overland trade and infrastructure. In order to achieve the Russian geo-economic vision of a "Greater Eurasia," Pakistan has been designated by analyst Andrew Korybko as the "zipper of Pan Eurasian Integration" through South, Central, and West Asia.
In 2016, Alexey Devoc, then-ambassador Russia to Pakistan, is said to have said that Russia "strongly supported" the CPEC and that Moscow and Islamabad had discussed merging the EAEU with the CPEC. Additionally, Pakistani authorities have agreed to allow Russia access to the Gwadar Port. Russia and Central Asia now have access to the Indian Ocean, Arabian Sea, and Persian Gulf. In addition, the port acts as a backup trade route in the event of a blockage.
The crisis in Ukraine has widened rifts between the US and its allies and Russia and its supporters. Pakistan, though, managed to preserve a precarious equilibrium in the developing conflict. Islamabad voiced its worry for the humanitarian situation in Ukraine but refrained from criticizing Russia. In this regard, Pakistan abstained from voting on the U.N. General Assembly's resolution condemning Russia's invasion of its neighbor and maintaining its "Neutrality".
Pakistan has been struggling with rising energy needs, mostly for gas and oil, as well as an expanding current account imbalance brought on by oil payments. A Pakistani delegation led by State Minister for Petroleum Musadik Malik traveled to Moscow the previous month in November to conduct negotiations with Russian authorities. Pakistan would pay discounted prices to Russia for its crude oil, gasoline, and diesel. Moreover, Russia is also extended an invitation to Islamabad to start discussions on long-term liquefied natural gas contracts for the years 2025 and 2026.
Pakistan's expanding residential and industrial energy needs have prompted Russia to agree to supply Pakistan with oil at a reduced price. In this regard, Pakistan has adopted a wise approach by developing better relations with Russia for the fulfillment of its energy demand. Although, Building stronger bilateral connections with Russia was formerly difficult for Pakistan, however, in the age of strategic and economic cooperation and intricate interconnectedness, Pakistan must not avoid rapprochement with Russia.