Pakistan offers a valuable window to Gandhara civilization: President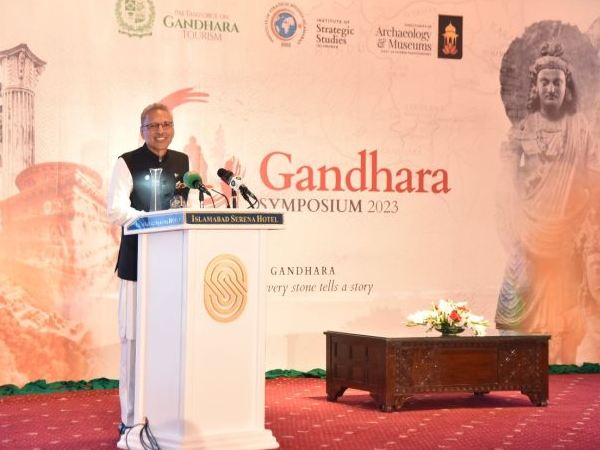 ISLAMABAD, Jul 11 (DNA): President Dr Arif Alvi on Tuesday said Pakistan offered the world a valuable window to Gandhara civilization with its unique blend of ancient history, and the Buddha's message of peace and compassion.
"In today's world where hatred is on the rise and increasing polarization is fueling conflicts, it's time to rediscover the role of cultural diplomacy to promote dialogue among civilizations," he said in his address here at the three-day Gandhara Symposium 2023.
The symposium titled 'Cultural Diplomacy: Reviving Gandhara Civilization and Buddhist Heritage in Pakistan' was organized by Prime Minister's Task Force on Gandhara Tourism, Institute of Strategic Studies Islamabad (ISSI), and the Directorate of Archaeology and Museums, Government of Khyber Pakhtunkhwa.
The event gathered monks and inter-faith experts from Sri Lanka, Nepal, Thailand, China, Malaysia, South Korea and Vietnam with an objective to explore Pakistan's rich Buddhist legacy and create an enabling environment for Gandhara tourism.
President Alvi said Buddha's quest rekindles the spirit of inner reflection with a precept to abstain from taking lives of the living beings and caring for the environment.
He highlighted that the Gandhara civilization, which thrived in Pakistan centuries ago, could serve as an informative place for the visitors from across the globe to explore exquisite Buddhist sites.
He urged collaborative efforts to raise awareness about the inclusive and multicultural nature of Gandhara civilization and help the society to absorb diversity of cultures.
The president welcomed the Buddhist monks in the country, hoping that their presence would relay a message of peace and cross-cultural harmony.
Minister of State, Chairman of the PM Task Force on Gandhara TourismRamesh Kumar Vankwani said the Gandhara civilization continues to mesmerize from all over the world and emphasized the need to preserve and revive the historic Buddhist relics.
He said cultural diplomacy helped foster understanding and tradition among civilizations and expressed confidence that the symposium would act as an effective platform in promoting Pakistan's heritage.
Director General ISSI Sohail Mahmood in his welcome address said Gandhara civilization, situated at the crossroads of ancient trade routes, served as a melting pot of diverse cultures and civilizations. He said preserving and promoting the Buddhist Gandhara heritage was of paramount importance for Pakistan.
The key objectives of the symposium include creating awareness about Gandhara and fostering a sense of appreciation for Pakistan's rich and diverse cultural heritage, both domestically and abroad. Also, it focuses on considering new initiatives that reinforce the country's cultural diplomacy efforts and help promote tourism, particularly faith tourism.
One of the most remarkable aspects of the Gandhara civilization is its artistic creativity. The re-discovered cities of the Gandhara civilization exhibit many elements of their well-structured and modern lives through paintings, sculptures, coins, pottery and their relation with Buddhism. APP