Pakistan needs to reach out to Kenya for business prospects: envoy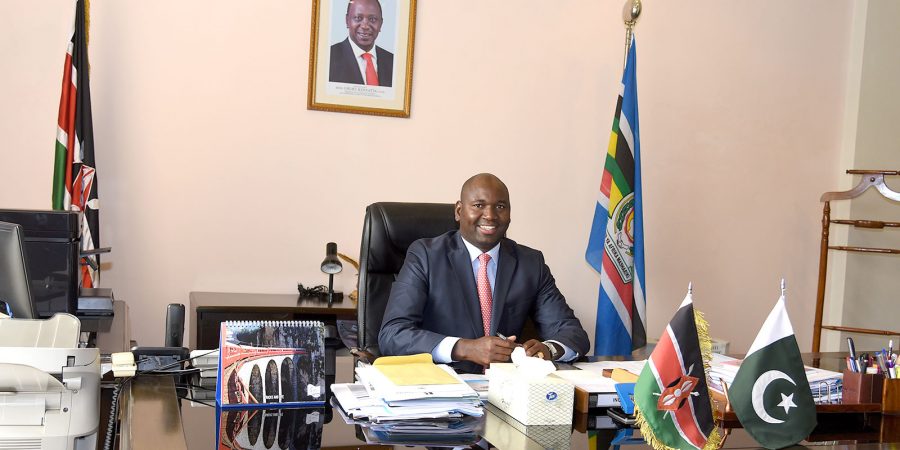 DNA DEC 05 EXCLUISVE -KENYA
1:        
High commissioner says Pakistan still needs to make its visa policies more flexible for Kenyan nationals; bilateral trade volume to be taken to USD 1 billion; business climate satisfactory; Pakistan a lovely place to work and live
=================
ISLAMABAD, DEC 05 (DNA) -Prof. Julius Bitok High Commissioner of Kenya has said Pakistan needs to reach out to Kenya in order to cash in on huge opportunities in various fields such as trade, economy, tourism and culture.
He said Kenya and Pakistan are good friends adding Kenya and Pakistan have been collaborating for long in various fields of development.
The Kenya high commissioner said this in an exclusive interview with DNA.
He added, Pakistan needed to further reach out to Kenya and engage the business community through institutions like the Chambers of Commerce and industry.
"We have specific mandate to improve bilateral relationship and strengthen trade cultural and political relationship with a great nation of Pakistan. Our relationship has been cordial before and even after inception of Kenya High Commission in 1984 bilateral trade has risen over the time for 200 million USD 10 years ago to over 650 million USD in 2018".
To a question about trade, the high commissioner said, the current trade volume as indicated is quite impressive and we have launched plans to double the volume of trade to 1 billion USD in 5 years.
Some of the undertaking to this end includes aggressive campaign online and print media to engage, inform and promote products that are easily available in Kenya which   include coffee, horticultural products, fruits, vegetables, flowers, edible oil among others, he added.
High Commissioner Bitok said, he personally visited 7 chambers of commerce and industry in sectors of interest to Kenya namely rice, surgical instruments, textiles and pharmaceuticals. "I am also closely in contact with Pakistani authorities for direct flights of Kenya Airways (KQ) to Karachi".
He said by looking at the success to first Pakistan Kenya trade conference, we intend to hold such conferences each year on a regular basis.
The envoy noted with satisfaction that the business environment in Pakistan has been improving over time. Although it is moving at a slow pace, things still seem to be hopeful. Improvements are required at regulation and procedural ends.
"Among other things, Pakistan still needs to make its visa policies more flexible for Kenyan nationals visiting Pakistan. The countries tax regime is still prohibitive especially on value added imports".
He lauded efforts of Government of Pakistan in fighting terrorism and corruption menace adding this can increase direct foreign invest remarkably.
"Kenya is beneficiary of Pakistan Technical Assistance Program and scholarships are offered by the government of Pakistan. There are about 100 Kenyan students studying in Pakistan in the fields of medicine, engineering pharmacy, business and law", he added.
While giving his impression about Pakistan, he said it a great country and what the international media says about it is just not true. It is a peaceful country full of opportunities.
It has rich culture, music, art and poetry. The real treasure in Pakistan is its warm, hardworking, friendly and welcoming people.
Pakistan is faced with a view challenges related to peace and security but Pakistan is a valued world partner in the fight against Global threat of terrorism.
Kenya has confident in Pakistan's government capabilities to overcome these challenges. We shall in this regard continue to work in peace, security and socio-economic development of Kenya and Pakistan so that our people can live in respect and dignity, he concluded.=DNA
============