Pakistan calls out 'Israel backers' to help end genocide of Palestinians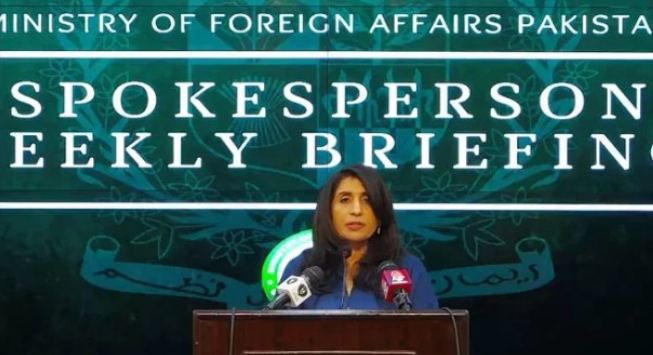 ISLAMABAD, Nov 10 (DNA): Pakistan on Friday said the "backers of Israel" must prevail upon it to abandon the plans for settler colonialism, forced displacement and ethnic cleansing of the Palestinian people.
"As an occupying power, Israel must fulfill its obligations under the Fourth Geneva Convention and forthwith end the carnage in Gaza," the Foreign Office spokesperson said at a weekly press briefing.
Spokesperson Mumtaz Zahra Baloch said Pakistan was deeply concerned about the heinous crimes being committed against the Palestinian people as Israeli forces continued with their "campaign of terror and brutality" in Gaza.
She said over a month, the people of Gaza had been subjected to the worst forms of collective punishment.
"Israeli forces are committing crimes against humanity with impunity as they indiscriminately massacre defenceless civilians and deliberately deprive them of food, water, shelter and medical care," she said.
Baloch said the use of phosphorus bombs and threats of nuclear holocaust were being made against the people under occupation who were being forcibly evicted from their land.
She said as a tragedy of epic proportions unfolds in Gaza, the United Nations Security Council must act to fulfill its responsibility to uphold peace and call for an urgent and unconditional ceasefire, lifting of the siege, and commencement of rapid, unhindered humanitarian assistance.
The spokesperson said Pakistan welcomed the forthcoming Extraordinary Islamic Summit being held on 11th November in Riyadh, Saudi Arabia. The OIC Summit has been convened in response to the unprecedented Israeli attacks on Gaza and its environs, which have posed a grave threat to the civilian population and precipitated a humanitarian crisis.
She said Prime Minister Anwaar-ul-Haq Kakar will participate in the Extraordinary Islamic Summit, while Foreign Minister Jalil Abbas Jilani will join the Council of Foreign Ministers preceding the extraordinary session.
"Pakistan will continue to play its role to advance international consensus and galvanize efforts for an urgent end to Israeli aggression against the Palestinian people and urgent provision of relief assistance to the people of Gaza," she said.
On the situation in Indian Illegally Occupied Jammu and Kashmir, she said India must comply with its international obligations and respect the rights and freedoms of the Kashmiri people who have an inalienable right to self-determination.
"Pakistan will continue to extend political, diplomatic and moral support to our Kashmiri brothers and sisters for the just and peaceful settlement of the Jammu and Kashmir dispute in accordance with the UN Security Council Resolutions," she said.