Need stressed for following Iqbal's philosophy to make Pakistan a progressive economy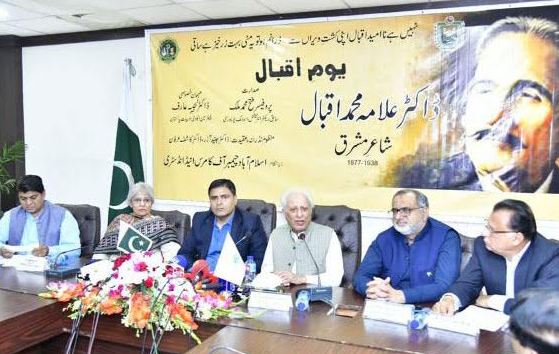 ISLAMABAD, NOV 10 /DNA/ – The Islamabad Chamber of Commerce and Industry (ICCI) in collaboration with Nazaria-e-Pakistan Trust organized a ceremony to celebrate the Iqbal Day. Renowned scholar of Iqbaaliat and former Rector International Islamic University Prof. Fateh Muhammad Malik presided over while the Chairperson Pakistan Academy of Letters Dr. Najiba Arif was the Chief Guest. The speakers highlighted the role of Allama Iqbal for the creation of a separate homeland for the Muslims of the Subcontinent.
Addressing the ceremony, former Rector International Islamic University Prof. Fateh Muhammad Malik said that Pakistan has not come into existence by fighting any war, rather its creation was the result of a democratic movement of people inspired by the poetry of Allama Iqbal and led by Quaid-i-Azam Muhammad Ali Jinnah. The formation of Pakistan was actually the outcome of Allama Iqbal's thoughts and philosophy who realized decades ago that the Muslims of the sub-continent can neither live under British rule nor under the domination of Hindus. He lauded ICCI for organizing Iqbal Day to pay tribute to the role of Allama Iqbal in the creation of Pakistan.
Ahsan Zafar Bakhtawari, President, Islamabad Chamber of Commerce and Industry, said we as a nation should follow Iqbal's philosophy to make Pakistan a progressive economy. He said that Allama Iqbal presented the concept of a separate independent Islamic state for the Muslims of the subcontinent through his two-nation theory and the establishment of a welfare society. His poetry inspired the young generation as he believed that a modern Islamic welfare society cannot be developed without the active participation of the youth. Allama Iqbal considered weakness as a great sin and considered strength and power as the main pillar in the formation of modern society. Allama Iqbal's Shaheen is the manifestation of this thought. We have to make Allama Iqbal's thoughts a part of our education, economic and government systems. Pakistan cannot achieve sustainable development without getting rid of IMF loans. Although Pakistan is coming out of economic difficulties, long-term economic policies are needed for sustainable development.
Chairperson Academy of Literature Pakistan Dr. Najiba Arif said that due to the distance from Iqbal's philosophy, we are moving away from our real goal. We need to work to give due respect to the Pakistani passport in the world. We should inculcate Iqbal's philosophy in our youth.
Engr. Azhar ul Islam Zafar, Vice President ICCI said that Iqbal was the greatest poet of his time. Unfortunately, we could not transfer Iqbal's philosophy to our children. Iqbal's name is disappearing from our education system, which is unfortunate.
Afraz Begum Sial, Convener, ICCI Literature Committee also highlighted the importance of reviving the Iqbaaliat to promote Pakistan as a forward-looking country.
Renowned poets Dr. Junaid Azar, Dr. Kashif Irfan and Shehbaz Chauhan paid tribute to Allama Iqbal in the ceremony.