Pakistan achieves GDP growth rate of 4.7pc during outgoing financial year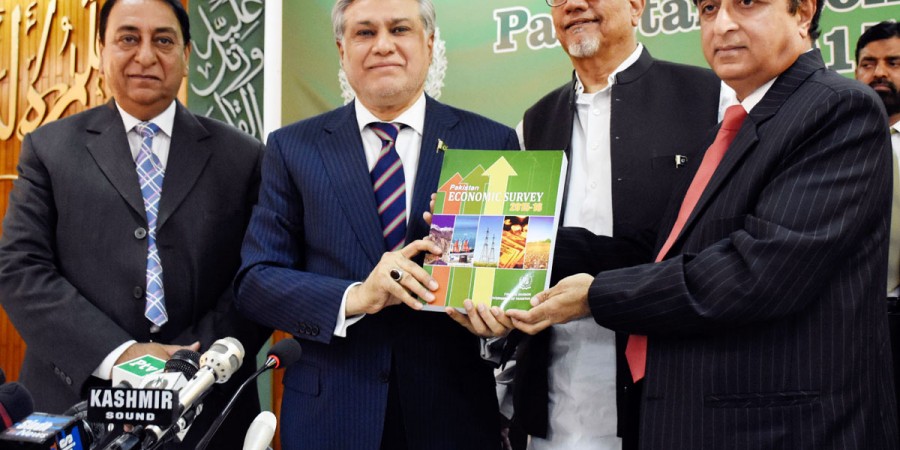 ISLAMABAD, 02 JUNE (DNA) – Government on Thursday presented National Economic Survey 2015-16 while Finance Minister Ishaq Dar said that the government had completed its three fiscal years as economic development had reached to 4.7pc.
The survey also revealed that economic targets could have been achieved if cotton production could be increased while lack of production lead to GDP decline by 0.5pc.
Dar also said that agriculture sector had been affected in the wake of reduction of cotton price in the international market. Dar promised to announce bigger package for the betterment of agricultural sector in the coming budget. Rs 600 billion had been allotted for farmers package in the current fiscal year.
According to the survey report, industrial development growth reached to 6.1% while 6.8pc of development had been reported with respect to mining. 4.0pc had been noted in transport and communication sector. Dar said that 4.57pc increase had been recorded in wholesale sector which was dropped to 2.63pc last year. 5.7 pc growth had been recorded in the services sector.
The government had also been working to improve energy sector as electricity and gas supply had constantly been improved while 12.18pc of increase in production had been recorded in energy sector this year. Pakistan International Airlines (PIA) and railway performance also progressed towards betterment. Within 9 months, a 13.87pc increase in railway growth had been recorded.
Pulses and fruit production targets could not be achieved in the present fiscal year. At the end of this very year, the inflation rate would be less than 3pc while imports growth worth $32 billion and 700 million had been reported in 10 months.
Dar further stated that foreign exchange reserves had exceeded to $ 21 billion, the highest level recorded in national history while remittances had increased from $16 billion with a growth rate of 5.25pc.
Earlier, foreign exchange reserves were reported worth $3.21 billion, which were now at the highest recorded point making it to $21.6 billion. This year s budget deficit in terms of GDP reached to $1 billion and 520 million while poverty rate reduced to 29.5pc from 64.2pc recorded in 2001.
Direct foreign investment growth reached to 5.4pc and revenue tax rate had increased to 4pc in terms of GDP. Previously, tax revenue rate had reached to 7.5pc.
Fiscal deficit decreased to 3.4pc from 3.8pc in a time period of 9 months. Coming fiscal budget 2016-17 would be presented on Friday. DNA