Over 50 security personnel injured as police fail to arrest IK even after 24 hours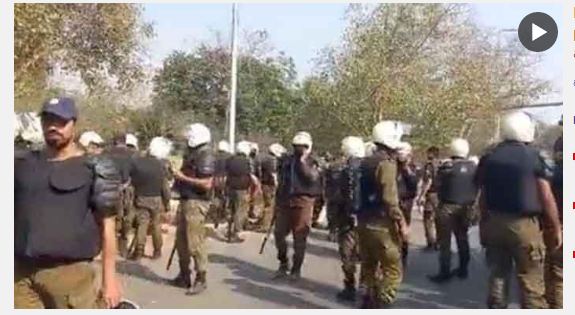 LAHORE, MAR 15 (DNA) — Police failed to arrest PTI chairman Imran Khan even after 24 hours of the operation as the situation continued to remain tense outside Zaman Park. PTI workers are offering a stiff resistance to the police that march towards the residence of Imran Khan after intervals. Police are using tear-gas and water cannons to disrupt the charged workers.
In response, the workers are busy pelting the police with stones as well as attacks with clubs. The environment is smoky due to setting the trees on fire. People are unable to breathe due to shelling of teargas. Power, Internet and mobile phone services have been badly affected due to the ongoing operation.
According to sources, the police have temporarily suspended the operation due to a match of the Pakistan Super League 8 in Lahore. On the other hand, Imran Khan appeared before the workers soon after stopping the operation temporarily.
He interacted with the workers and asked them to be resolute. Club-wielding workers removed barricades from roads from Harbanspura, Dharampura and Thandi Sarrak. The Insaf Lawyers Forum workers marched towards the residence of Imran Khan after breaking the siege of the police. They chanted slogans in favour of Imran Khan. — DNA