Norway, Pakistan enjoy excellent relations: Ambassador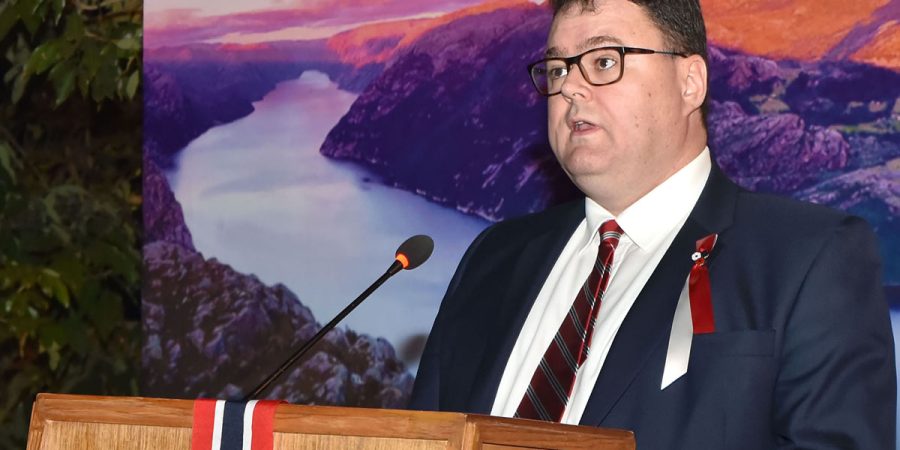 Says Telenor Pakistan is here to stay; it is largest single Norwegian investment in Pakistan, and one of the largest European investments
ISLAMABAD: Ambassador of Norway Mr. Per Albert Ilsaas speaks on the occasion of the Norwegian Constitution Day reception.=DNA Photo
Ansar M Bhatti/DNA
ISLAMABAD: Ambassador of Norway Mr. Per Albert Ilsaas has said Norway and Pakistan enjoy excellent bilateral relations adding people to people relations between the two countries were also warm and cordial. He said, the Norwegian-Pakistani Diaspora, one of the largest in Europe, was an important bridge between the two countries — and contributed to making his job as Norway's Ambassador to Pakistan a rewarding and enjoyable one.
Ambassador Ilsaas expressed these views while speaking on the occasion of Norwegian Constitution Day reception he hosted at his residence. A large number of diplomats, members of the business community, govt officials and media persons attended the reception.
He further said, Norway was a significant investor in Pakistan. Telenor Pakistan, was the largest single Norwegian investment in Pakistan, and one of the largest European investments.
'I am sometimes told by interlocutors I meet in Islamabad and elsewhere that Telenor is leaving. Telenor is here to stay. Today, it plays a role in creating a positive impact in the lives of over 50 million citizens of this proud country. It will continue to do so in the future'.
While talking about Scatec ASA, another Norwegian company, the Ambassador said, the company is now embarking on a landmark energy project, the construction of a solar power plant in Sukkur, in Sindh, in partnership with the Pakistani company Nizam Energy.
'We are very excited about this project, which I had the opportunity to discuss in good meetings with Chief Minister Murad Ali Shah and Minister of Imtiaz Ahmed Shaikh in Karachi last week. It is an environmentally friendly project that, when completed, will generate 150 MW of renewable energy and create scores of jobs'.
In order to promote and strengthen business relations between the two countries the ambassador said, a key priority for this Embassy over the next years will be to support representatives of business and industry from both countries engaged in trade and economic cooperation. Pakistan and Norway have the potential to trade more and do more business together.
Sharing information about the Constitution Day, he said, the Norwegian Constitution dated back to 17 May, 1814, in the midst of a "transition" from the Danish to the Swedish crown. Inspired by the American and the French Revolutions, the Norwegian constitution established the division of power between the executive, the legislative and judicial branches, based on the principle of popular sovereignty.
On the occasion the Ambassador also shared Norwegian point of view on the Russian aggression against Ukraine. He said, Russia´s action was a clear and unacceptable violation of international law. It was a flagrant breach of the most fundamental rules of international relations: respect for the sovereignty and territorial integrity of UN member states.
He extended whole-hearted support to the people of Ukraine and hoped that their fight against the aggressor will bear fruit one day. He thanked the guests for joining them besides thanking the Embassy staff and collaborators from different companies for making the event a success.