'No difference between agitators and terrorists': PM lashes out at opposition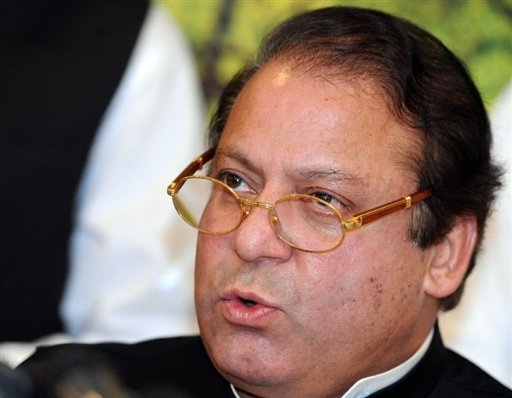 SUKKUR: Prime Minister Nawaz Sharif on Friday, while furthering his development agenda at the inauguration of the 393-kilometre-long Sukkur-Multan motorway, took another swing at his opponents, likening them to "terrorists" halting progress in Pakistan.
In a harshly-worded statement, the prime minister said, "People should think twice about which side they want to be on."
"What do terrorists do? They wish to halt progress in Pakistan," he said.
Referring to the opposition, he asked: "What is the agenda of those who agitate?"
"Don't they try to stop progress in Pakistan? Don't they try to disrupt peace? What is the difference between them and terrorists?" he questioned.
He thanked China for their investment in Pakistan. "This assistance would have come earlier if it weren't for the 'dharnas'," he said, referring to the Pakistan Tehreek-i-Insaf's (PTI) Islamabad sit-in.
The prime minister's jabs at the PTI come as both parties continue to trade barbs over Panamagate. A war of words between opposition leaders and the government has escalated over the past few weeks, with opposition parties holding anti-corruption rallies and calling for the PM's resignation over allegations of corruption after the Panama Papers revealed the Sharif family's offshore holdings.
"Lots of people have tried to prove corruption against us," he said. "General Musharraf spent nine years trying to enforce accountability but was unable to find proof of any kickbacks or commission."
The project is a part of the Peshawar-Karachi motorway and falls under the China-Pakistan Economic Corridor (CPEC). It will be built with financial assistance from China. The motorway will provide high speed transportation between Sindh and Punjab.
The six-lane motorway passing through Multan-Jalalpur Peerwala Ahmed Pur East, Ubaro and Pano Aqil will terminate at Sukkur.
A total of 54 bridges will be constructed, including one major bridge on the river Sutlej. The construction of 12 service areas, 10 rest areas, 11 interchanges, 10 Flyovers and 426 underpasses is also included in this project.
At the inauguration ceremony the PM reminded the audience that he and his party have a 20-year track record of building infrastructure.
"I want to lay a web of roads connecting all of Pakistan… This project will change the face of Pakistan."
"We want Pakistan to be included in the leading economies of the world ─ this is our agenda," the prime minister said.
"I had promised that I will end loadshedding during my five-year term and I will stick to that promise. I will not just end it, but make electricity 30pc cheaper. We are working on roads, motorways, buildings are going up in mere weeks, workshops are being built and LNG projects are being set up," he said, adding that more economic zones will also be set up in the province.
The PM has been touring the country to announce development and infrastructure projects, not all part of the CPEC. Last week he visited Bannu, where he announced an international airport and a special economic zone.