Nicolae GOIA 'I intend to give new dimensions to Romania, Pakistan ties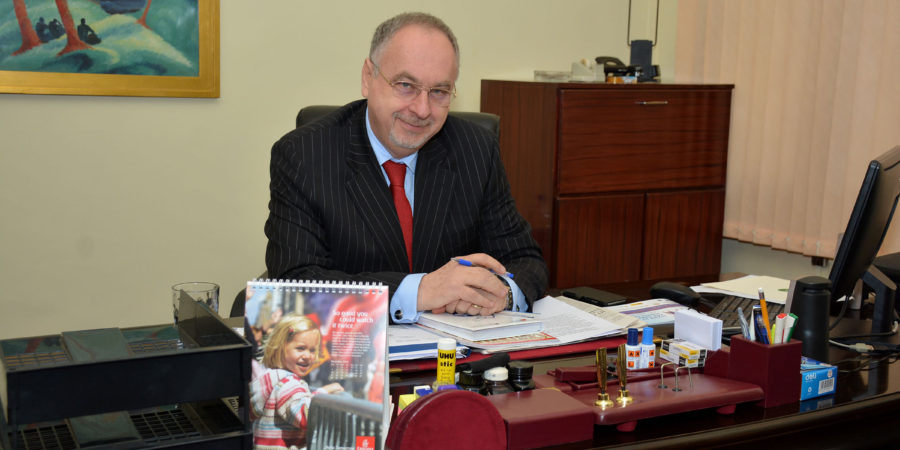 Ansar Mahmood Bhatti /DNA
Newly-appointed Ambassador of Romania to Pakistan Mr. Nicolae Goia gave an interview to Centreline and DNA, the first to any Pakistani publication after his arrival in Islamabad. He  brings with him vast experience in the field of diplomacy and a strong desire to further improve bilateral relations. He considers that Pakistan will be his second home, which is a clear manifestation of his love for this country and its people. This is a brief introductory interview that would be followed by a detailed one in due course. Here is the text of the interview.
ISLAMABAD: Mr. Nicolae GOIA the newly appointed Romanian ambassador to Pakistan said that he intends to give new dimensions to the relations between Romania and Pakistan, picking up threads from where his predecessor left.
He added, he started his diplomatic career from Yemen in 1979 and then served in Iran and Japan while his previous assignment was in the United Arab Emirates.
He said, he immediately accepted the offer to serve as ambassador in Pakistan  because he considered Pakistan as one of the most important countries not only in the region but in the world also.
"I will do my best to further improve bilateral relations between the two countries which is also an instruction explicitly given to me by the Romanian leadership. It will be my great endeavour to work towards this goal."
Romania and Pakistan bilateral cooperation dates back to 6os and we can undoubtedly build further our mutual relationship on the basis of that. "We should act more consistently in identifying multiple possibilities of diversifying our relations in the fields of economy, culture and politics etc."
He said his high priority job would be to arrange contact of the Romanian and Pakistani companies with one another in order to spur trade and business activity between the two countries. There is a lot of scope to expand trade between the two countries for which we should do everything possible to explore untapped potential especially in the field of business ties.
"Culture is yet another area where we can cooperate with each other. I genuinely believe Pakistan has a rich cultural background and so does Romania, therefore, strengthening of contacts in this particular area shall be high on my agenda during my stay.".
He said he plans to bring some a cultural troupe from Romania and at the same time he also intends to send Pakistani performers to Romania to further enhance the cultural linkages.
The ambassador further added that he is already engaged in exhaustive study and in-house discussions with his embassy staff to find ways how Pakistan is better understood in Romania and vice versa. "As I mentioned earlier, I have found people of Pakistan extremely friendly, hospitable and caring, which ostensibly will make my job much easier in terms of cementing the bilateral relations".
Ambassador Nicolae Goia further said, he had no doubt in saying that in the days ahead Pakistan will become his second country which would definitely help in overcoming all issues for furthering his agenda of improving the bilateral contacts.
To a question about Pakistan, Romania business council, the ambassador said, the Council undoubtedly has an important role to play with regard to deepening of bilateral relations. "In due course, I would hold meetings with the members of the Council in order to discuss possibilities of even deeper cooperation. I believe, there is always room for improvement, therefore, we will try to find more areas of common interest with a view to bringing both countries even closer".
His plans to encourage exchange of business and cultural delegations will help to achieve the goal of diversification of relations in all fields.  "Towards this end, I intend to engage and interact with the business council on regular basis so as to meet our target sooner rather than later".
To yet another question about establishing business councils in other cities of Pakistan, the ambassador said it would be premature for him to address this question. However, he will certainly be a in a position to take up this question after studying the ground realities.
Similarly, while he said he would look deeply into the working of Pakistan Romania Friendship Association. In near future he will meet the members of this association in order to devise a future roadmap.
"Regarding enhancing the contact of chambers of commerce and industry of both countries, I will definitely reach out to Pakistani chambers and Romania chambers. I am already onto this task because it is my conviction that a task is already half done if it is well begun!" Business chambers no doubt play an important role in developing and deepening of business relations so it would be my strongest desire to achieve immediate success in this particular field.
When asked to comment on his impressions about Pakistan he rightly remarked that it would be premature for him to answer this question nevertheless he repeated he considered Pakistan a second home. "I am quite impressed by the people of Pakistan."
"I attended the Parliament joint sitting on the occasion of Turkish President's address. I can say it without a doubt that Pakistan is a working democracy. It would be my earnest desire to make Pakistan very well understood in Romania".
Ambassador Nicolae praised the efforts of his predecessor Ambassador Emilian ION for promotion of bilateral relations in various fields.