Nawaz in China to attend SCO summit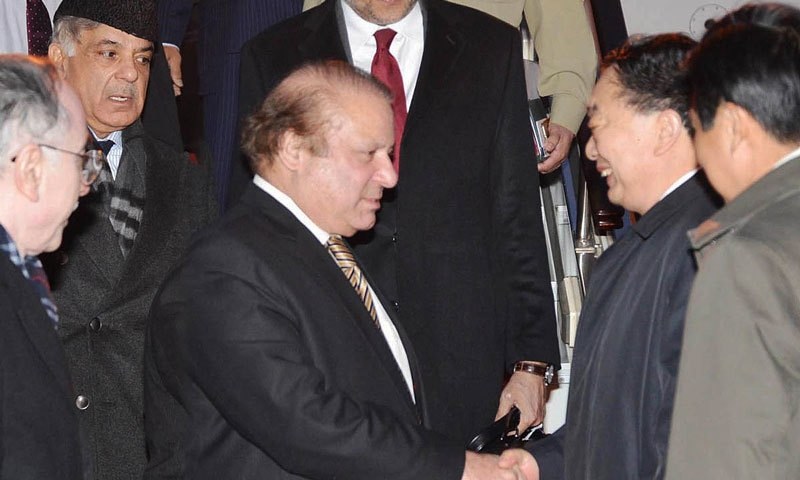 ZHENGZHOU: Prime Minister Nawaz Sharif on Monday arrived in China on a two-day visit to represent Pakistan at the 14th Heads of Government Council meeting of Shanghai Cooperation Organisation (SCO).
Upon his arrival in Zhengzhou city of China's Henan province, Zhang Weining, the vice governor of the province received him at the airport.
Nawaz Sharif will deliver a speech at the 14th SCO Heads of Government Council Meeting on Tuesday (tomorrow), which is scheduled to be attended by prime ministers of Russian Federations, Kazakhstan and Uzbekistan. Chinese Premier Li Keqiang will chair the meeting.
The prime minister of Belarus, the chief executive of Afghanistan, the vice premier of Mongolia, the minister of state for foreign affairs of India and the minister from Iran will also attend the meeting as representatives of SCO observers countries.
Nawaz will also join the SCO heads of government at the welcome reception hosted by Chinese Premier Li Keqiang in honour of the heads of government of SCO member states and observer countries.
The prime minister will also hold bilateral meeting with Chinese Premier Li Keqiang on December 15 in which matters of mutual interest will be discussed.
The visit emphasises Pakistan's association with the nine-member organisation comprising China, Russia, Kazakhstan, Kyrgyzstan, Tajikistan, Uzbekistan, Pakistan, India and Mongolia, and its desire to deepen partnership with them.
Pakistan was invited to become full member of the SCO at Ufa summit in July this year and all relevant procedures are being completed for full membership.
Talking to media on board his plane on way back from Turkmenistan, the prime minister said future of the world is linked with peace and development in South Asia.
He said Pakistan wants good relations with neighbouring countries by resolving all disputes peacefully.
About TAPI gas pipeline project, the prime minister said it will prove to be a game changer for Pakistan and open new vistas of greater regional economic cooperation leading to progress and prosperity.
The prime minister is accompanied by Minister for Planning Ahsan Iqbal, Prime Minister's Special Assistant on Foreign Affairs Tariq Fatemi and Punjab Chief Minister Shahbaz Sharif.