Federal govt spends Rs9bn annually on Karachi operation, asserts Nisar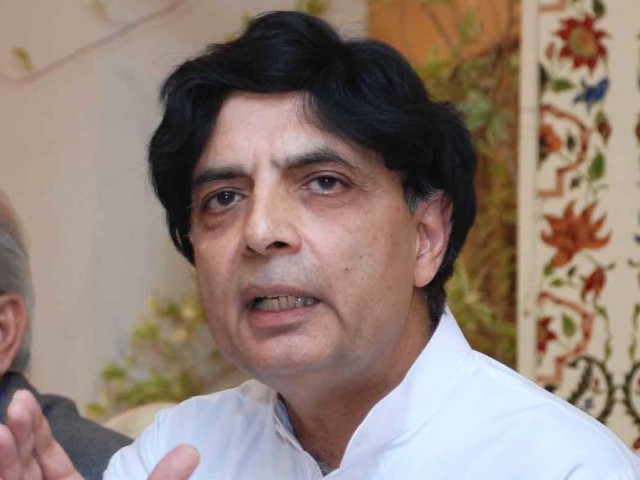 ISLAMABAD: Federal Interior Minister Chaudhry Nisar Ali Khan on Monday claimed that the federal government is spending about Rs9 billion annually on Karachi operation.
In an apparent reply to his critics, Nisar said that some forces in the Sindh government are trying to give impression that the federal government is not spending a single penny on Karachi operation.
"I must clarify that aside from spending a huge amount on intelligence agencies in the province, the federal government is spending about Rs9 billion annually on Rangers in Sindh," said Nisar in a statement issued on Monday.
The interior minister was of the view that some people are using the name of Sindh province to hide their own shortcomings and when an institution tries to hold them accountable, "they term it an attack on Sindh".
"The actual enemies of Sindh are those who have occupied lands and resources of the province for years," asserted Nisar.
Nisar said his press conference had become due as the provincial government was delaying the matter of extension of special powers granted to Rangers in Sindh despite a week of meetings and discussions in this regard.
The interior minister said that he was astonished to hear that the matter is 'entirely provincial' as in fact, the Karachi operation was started on the behest of federal government and the operation is monitored by intelligence agencies, which are directly under control of federal government.
He added that "Supreme Court of Pakistan's clear directives are present in this regard".
Talking bout the National Accountability Bureau (NAB) activities in Sindh, he said NAB is an independent body and cannot take any action on federal government's orders, adding that the head of the anti-graft watchdog was selected after consultations with the Pakistan Peoples Party (PPP).
Nisar maintained that MQM, ANP and Sunni Tehreek (ST) had also expressed reservations about Rangers activities in Karachi but none went as far as the PPP government did, "thus hurting the momentum of the operation".
In the end, the interior minister repeated that Karachi operation should continue for the greater good of the province and city but if someone attacks him personally, in order to divert attention from the matter, he has all the right in the world to respond.