Nasir remains Pakistan's only hope in Asian Squash C'ship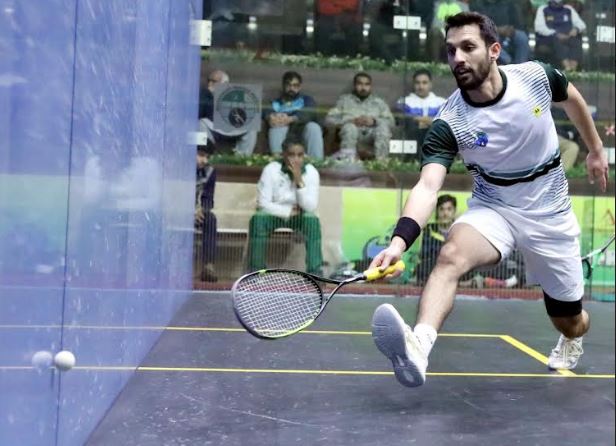 AFZAL JAVED / DNA  
ISLAMABAD, Dec 17: Promising Pakistani youngster Nasir Iqbal continued his good run in the 21st Asian Individual Men's Squash Championship by defeating  sixth seed Leung Chi Hin Henry from Hong Kong to reach the semi-finals at the Mushaf Squash Complex here on Friday.
Nasir now only remains the host nation's solitary hope for the title after Tayyab Aslam exited from the competition as he missed the easy opportunity against Lau Tsz Kwan from Hong Kong to stay in the championship title.
Nasir Iqbal, currently ranked 78 in the world, showed his wonderful skills throughout the match against Chi Henry in a thrilling four-game duel that lasted 45minutes.
Nasir got off to a flying start by winning the first two games by 11-4 and 11-9 against Henry but Hong Kong bounced back in the third game by winning 11-3with eight points difference.
In the fourth game Nasir didn't allow his opponent to come back again and won the match by 11-4, 11-9, 3-11, 11-7. 
In the second quarterfinals Tayyab Aslam missed the easy opportunity after winning the first two games against Lau Tsz Kwan from Hong Kong by 11-5 and 11-9 and then Kwan back for an hour and prevailed 11-5, 11-3, 13-11 to reaches in the semi final of the championship.
Men Event: Ng Eain Yow (MAS) bt Mohammad Syafiq Bin Mohd Kamal (MAS) 11-6, 11-3, 11-5 (36 Min), Lau Tsz Kwan (HKG) bt Tayyab Aslam (PAK) 5-11, 9-11, 11-5, 11-3, 13-11          (70 Min), Yip Tsz Fung (HKG) bt Yuen Chee Wern (MAS) 11-7, 11-4, 11-5 (23 Min) and Nasir Iqbal (PAK) bt Leung Chi Hin Henry (HKG) 11-4, 11-9, 3-11, 11-7 (45 Min).  
Women Event:  Liu Tsz Ling (HKG) bt Noor Ainaa (MAS) 11-9, 5-11, 12-10, 11-6 (35 Min), Tong Tsz Wing (HKG) bt Aifa Binti Azman (MAS) 11-5, 11-9, 8-11, 4-11, 12-10 (50 Min),  Ho Tze Lok (HKG) bt Chan Yiwen (MAS) 11-5, 14-12, 11-9 (36 Min) and Rachel Mae Arnold (MAS) bt Chan Sin Yuk (HKG) 11-9, 11-7, 11-9 (22 Min).  
The Semi Finals of the championship would be played on saturday (today) Liu Tsz Ling will play against Tong Tsz Wing while Ho Tze Lok will play against Rachel Mae Arnold in the second semi final in women's category.
In the men's category Ng Eain Yow will play against Lau Tsz Kwan in first semi final while Nasir Iqbal will play second semi final against Yip Tsz Fung.