Mushaal lauds PM for raising voice for oppressed Kashmiris at UNGA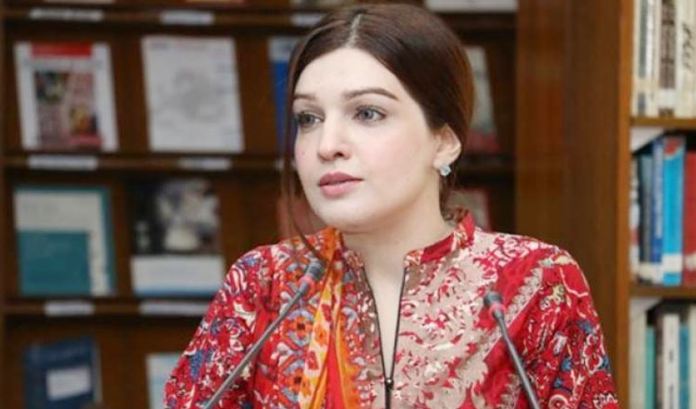 Says regional peace to remain elusive without resolution of Kashmir dispute
Islamabad: /DNA/ – Special Assistant to the Prime Minister on Human Rights and Women Empowerment Mashaal Hussain Mallick extoled the caretaker Prime Minister of Pakistan Anwaarul Haq Kakar for raising voicing for the oppressed Kashmiris in his address at the UN General Assembly session.
SAPM on HR and Women Empowerment, while addressing the award ceremony arranged by Bright Future Society, said that I am grateful to the PM for highlighting the state terrorism in Indian Illegally Occupied Jammu and Kashmir at global stage.
Mushaal said that PM's address in the General Assembly not only helped exposed the Indian fascist and notorious face before the world but it would also encourage the Kashmiri brothers and sisters that Pakistan never missed the chance to bring to lime light the brutalities of the Indian brutal forces before the world.
She went on to say that the PM as the ambassador and advocate of Kashmiris highlighted the worst human rights violations in the occupied valley before the international community.
Mushaal vowed that Pakistan will continue to expose India's Hindu fascist regime at every forum globally.
SAPM said that the oppressed Kashmiris see Pakistan as the center of their hopes for achieving their right to self-determination as India fascist Narendra Modi led government turned the scenic Kashmir valley into a killing field.
She said that all top Hurriyat leaders including her husband Yasin Malik was in Indian Illegally and unlawful incarceration as they were detained in fake, fabricated and politically motivated cases to silence their just voices.
Moreover, she said that Hindutva regime even subject other minorities to worst state oppression.
Mushaal said that Indian government was not only involved in state terrorism in IIOJK but its notorious agency carried out terrorist activities across the world.
Mushaal stated that the recent killing of Sikh separist leader in Canada exposed the ugly face of Hindutva regime before the world.
She urged that the international community and UN bodies should take immediate steps for resolution of the Kashmir issue and releasing detained Kashmir leaders and other freedom fighters because the regional peace would remain elusive without settlement of the long-standing Kashmir dispute as per the wishes of the people of the occupied territory and UN resolutions.