More and more Thai fruits hitting Chinese market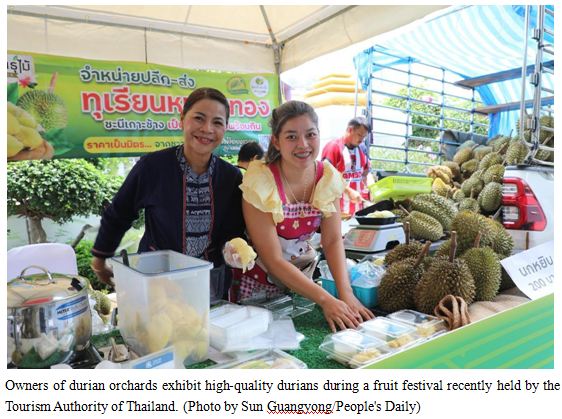 By Sun Guangyong, Zhang Jinruo, People's Daily
"My business is exceptionally great this year," said Eiksarn, who has been doing business in the largest durian market in Thailand for ten years.
The durian market, located in Chanthaburi province of Thailand, is home to over 1,000 booths. Eiksarn runs three shops in it.
The man called China the "best destination" for Thai fruits, explaining that his Chinese clients all want high-quality durians in large quantities.
China is an important export market for Thai fruits. According to statistics released by Thailand's Ministry of Commerce, China was the largest export destination for Thai durians last year, accounting for 96 percent of Thailand's total durian exports, with a total export value of $3.09 billion.
In the first two months of this year alone, 35,000 tons of Thai durians were sold in China, an increase of 2.4 times over the same period last year.
Thailand's Minister of Agriculture and Cooperatives Chalermchai Sri-On told People's Daily that thanks to the Chinese market, the planting areas of durians and other fruits in Thailand have been constantly expanded, and farmers' incomes are on the rise. More and more Thai fruits are exported to China, he added.
In a plant named Pee Yiao in Tha Mai district of Chanthaburi, dozens of workers are busy sorting, weighing, packing and loading durians. During the peak season, such a factory can handle nearly 100 tons of durians per day.
"'Pee Yiao' is the name of my mother. My family has been engaged in the durian business for three generations. After graduating from the University of the Thai Chamber of Commerce in Bangkok with a degree in computer science, I returned to my hometown and joined the durian business," said Chutaleth, the owner of the plant.
According to the owner, to develop orchards with knowledge is a choice made by many descendants of fruit farmers today. With the Chinese market, the Thai fruit business is thriving, and Chutaleth's factory exports thousands of tons of durians to China each year.
At present, at least 700 such durian plants in the province exclusively work for the Chinese market.
Local fruit farmer Bunliang said that Chinese merchants are straightforward and honest, and it's pleasant to cooperate with them.
"We are looking forward to selling more fruits to China," the farmer added.
Since April, durians, mangosteens and other tropical fruits have been flooding into the Chinese market. Every day, there is a train carrying Thai fruits to Kunming, Chengdu, Guangzhou and other major Chinese cities via the China-Laos Railway.
At present, Thai fruits are mainly shipped to China by sea, land and air. In particular, sea transportation accounts for 51 percent, land transportation for 48 percent and air transportation for 0.54 percent. The opening of the China-Laos Railway has brought new opportunities for Thailand's fruit exports to China.
"Durians were shipped to China by road and sea in the past, which was largely affected by the weather. Sometimes it took as long as 20 days," said Alongkorn, an official with Thailand's Agriculture and Cooperatives Ministry.
Thanks to the China-Laos Railway, it takes only three to four days for durians to get to Kunming from Thailand, according to Alongkorn. He added that the railway has enabled Thailand to export more durians with higher maturity and better taste, and significantly facilitated its fruit transportation,
Yang Tai Group, a company that has engaged in the trade of Thai fruits for more than 20 years, exports tens of thousands of fruits to China every year, which are mostly sold to wholesale markets in Beijing and Guangzhou.
"The China-Laos Railway is fast and stable, which both ensures the quality of durians and lowers operational cost," said the company's president.
In 2018, a fruit development strategy was approved by the Thai government, which aims at building Thailand into a world leader in the tropical fruit trade. Advertising boards saying "building a global capital of fruits" are always seen on the streets of Chanthaburi today.
Thailand's Ministry of Commerce estimated that 70 percent of the country's fruit production this year will be exported to global markets, with China remaining the largest destination.
Monsit Paisarnthanawat, governor of Chanthaburi province, noted that the thriving demand from the Chinese market keeps boosting the durian business of Thailand, and Thai farmers, buyers and exporters have seen their income on a continuous rise.
Thailand's Deputy Prime Minister and Commerce Minister Jurin Laksanavisit said Thailand hopes to further expand its fruit exports to China this year.
"China is an important trading partner of Thailand, especially in the fields of agricultural products and fruits. Thai fruits are expected to hit the global market faster with the assistance from China, which helps Thailand in building itself into a major trading country of tropical fruits," he explained.