Misbah becomes country's most-capped captain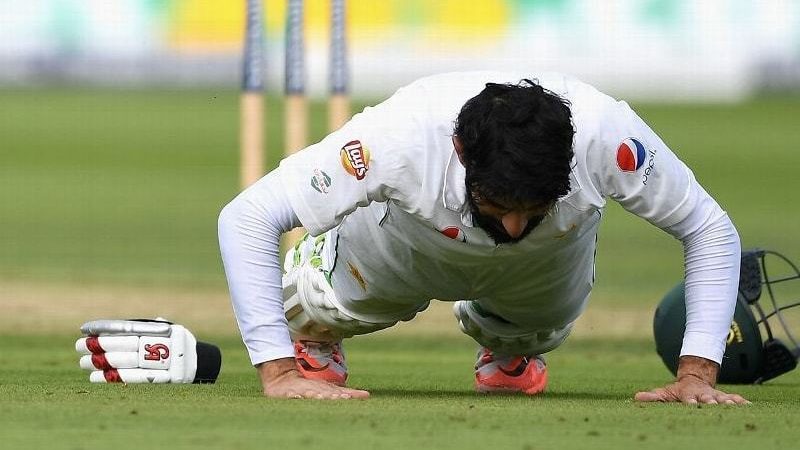 Misbah-ul-Haq on Sunday became the country's most-capped captain, breaking the record of former legendary cricketer Imran Khan to lead Pakistan for the 49th time in a Test match.
42-year-old Misbah was appointed captain in 2010.
When Misbah was made captan, Pakistan were ranked number six in Tests. Within the next six Tests, he toppled the ranking card, having 24 Test wins on his credit.
Under his captaincy, Pakistan won 24 matches, lost 13 and drawn 11 matches.
Earlier, Imran Khan held the title of most-capped captain of the country. Khan led the Pakistani team in 48 matches from 1982 to 1992. During his decade-long tenure, Pakistan won 14 matches, lost eight and drew 26 matches.
It is day four of the last Test at The Oval as Pakistan walk out after lunch with England railing at 194 for six, still 20 runs in deficit. Misbah throws the ball to Yasir Shah, who has already taken four wickets in the innings.
At the other end is Mohammad Amir, Misbah's go-to bowler throughout the series. But, he has been wicket-less in the innings, as the left-arm pacer averaged over 40 in four Test matches and his best bowling figures have been two for 39 in eight innings.
But he is still Misbah's main man. Amir bowls three overs and gives just one run as per Misbah's liking. The Pakistan captain has a penchant of keeping the scorecard in control.
---
Misbah understands the modern game and interprets it in a way that has served him well. With the increase in the shorter formats, the modern batsman will play his strokes and will score runs. And one of the best ways to get him out is to stop him from doing just that; strangle and choke him till he gasps for breath.
---
Earlier in the morning Ian Botham was surprised that Misbah had not started with Wahab Riaz, for it was Wahab that seemed most likely to take a wicket considering the previous evening. But it was Amir that Misbah had gone to. Amir commenced proceeding with a probing line and length, a maiden to begin with. Just what his skipper had ordered.
Now, after lunch, after three extremely clean overs from Amir, Misbah put in two slips and threw the cherry to Wahab. The left-arm fast-bowler leaked single off the first ball, double off the second, and another single of the third in contrast to Misbah's desires.
The 42-year-old does not like anyone scoring runs, it makes him feel that he is losing his grip on the situation. He likes choking the batsmen for runs. He takes one slip out and puts a man in the circle to stop the single. Michael Holding is furious; Misbah's tactics bewilder him.