Mexico to reopen its embassy in Islamabad: Envoy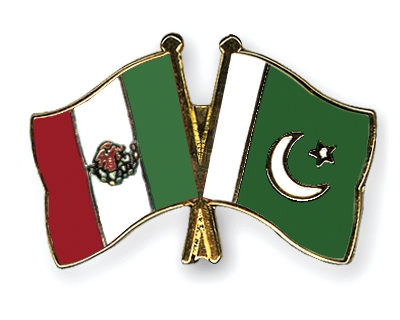 ISLAMABAD, 02 JUNE (DNA) – Pakistan and Mexico enjoy cordial bilateral ties and have huge potential to improve their economic relations especially in service delivery and manufacturing, said Awais Leghari, Chairman Foreign Affairs Committee of the National Assembly in a meeting with Mexican Ambassador.
The Mexican envoy for Pakistan, Ulesis Canchola paid a courtesy call on Mr. Leghari here at Parliament House on Monday. The Ambassador was also accompanied by Trade and Investment Officer for the Middle East Mr. Juan Antonio Cepeda Gutiérrez. The Ambassador said Mexico granted Pakistan very important place in its foreign policy and wishes to reinvigorate the bilateral ties with her.
The Ambassador, who also looks after Pakistan from Mexican Embassy in Tehran, informed the Chairman that Mexico was in middle of the process to reopen its embassy in Islamabad which closed in 2009 owing to financial restraints. Chairman Awais Leghari ensured him of any cooperation needed in the process.
The visiting Ambassador also wished to widen the existing legal bilateral framework between two countries which consists of six mutual agreements and three MoUs in different areas of economic and diplomatic ties.
Discussing the need to grow Pak-Mexican ties stronger, Chairman Leghari said Pakistan was looking to boost its trade relations with Latin America, Africa and Far East countries.
The Ambassador noted that the current leadership in Mexico hold the similar stance and is keenly pursuing diversification of its foreign policy in South and Central Asia.
CharimanAwaisLeghari said that Pakistan is keen to cooperate with like-minded nations on multilateral forums.
The two sides discussed the prospective reform of the United Nations Security Council and vowed to cooperate with each other in this regard.
Mr. Leghari and Excellency Canchola also exchanged views on Afghanistan's security situation in wake of withdrawal of international forces and the recent spring offensive of Taliban. Chairman Leghari hoped that international community will not forget Afghanistan like it did in past at end of cold war.
He observed that the center of terrorism was shifting to Middle East from this region. The two also discussed the role of United States in the region.
The ambassador called the economic progress of Pakistan despite hardships as a model for other weak economies across the world. He invited the Chairman to visit Mexico.
Currently, the two-way trade between both nations is nearly $181 million USD. Mexico's main import products from Pakistan include textiles, long grain rice and cotton while Pakistan imports plastic industrial tubes and automotive parts from Mexico. DNA