Mehfil-e-Samma at Peshawar Serena Hotel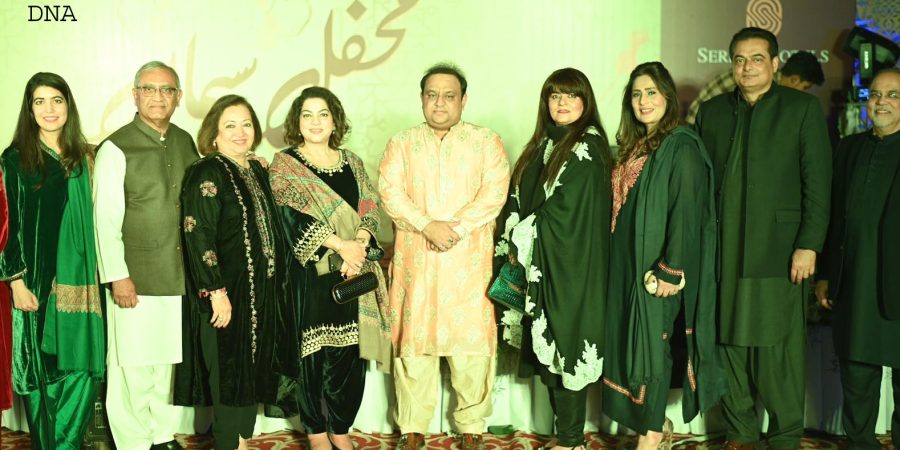 Legendary Qawwal Imran Aziz Mian performs at the Mehfil-e-Samma
PESHAWAR: CEO Serena Hotels South and East Asia Aziz Boolani and Mrs Boolani posing for a picture with Imran Aziz Qawwal and staff of the Serena Hotel Peshawar.-DNA
Peshawar: Imran Aziz Qawwal performs at the Peshawar Serena Hotel.-DNA
DNA
Peshawar:  Tourism Promotion Services (Limited) Pakistan hosted a "Mehfil-e-Samma" with the legendary Qawwal Imran Aziz Mian to celebrate its latest acquisition 'Peshawar Serena Hotel' to its portfolio of Luxury Hotels, Resorts, Forts, Palaces in South and Central Asia. The beautifully organised musical evening began with a meet and greet that included prominent personalities from the corporate sector, business community and media houses.
The evening was an ode celebrating Serena Hotels arrival in the oldest city of Pakistan. The management of Serena believes that Peshawar has untapped potential for tourism and boosts a rich cultural heritage, which will help in extending the tourist circuit in the province but will also allow regional connectivity for tourists and business travelers through its vast portfolio of hotels in Islamabad, Peshawar, Kabul, and Dushanbe. The hotel shall serve as a gateway to Central Asia, taking the brand portfolio to a whole new level.
The management of Serena Hotel has retained the employees of Pearl Continental Hotel and have been working upon the restoration and conservation of the existing 1970s building, with intention to add on to the existing structure. Serena is well associated with conservation projects, with the Heritage Circuit being a part of the Serena Palaces and Forts that have been restored and renovated and are now being utilised as a historical hotel, the proceeds of which is handed back to the community in an annual ceremony.
A provincial job fair is planned to provide the youth with opportunities to become a part of the Serena family, where internships, mentorship programmes and management training will be offered to the students of the region, showcasing Serenas' ethos of community development, and capacity building.
The management has been actively engaged with the community, through the corporate social responsibility platform called 'Jazba-e-Khidmat', which is an initiative to provide donations and support to flood affectees of the Khyber Pakhtunkhwa region. Now through the Peshawar Serena Platform, the management will be distributing ration bags to the nearby areas affected by the catastrophic flooding of 2022.
The evening marked the beginning of many more events that are in the pipeline for Peshawar Serena Hotel and set the tone for the future. Celebrating the rich cultural heritage and legacy of the city of flowers, through Serena Diplomacy initiatives i.e., public, cultural, sports, adventure. These initiatives by Serena Hotels have been creating an inclusive environment for the underprivileged and underserved communities, wherever they operate.