PML-N candidate Masood Khan elected president AJK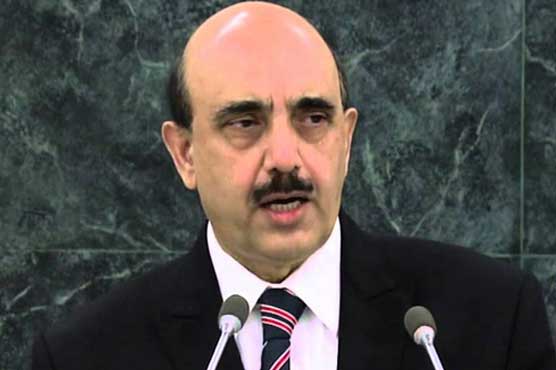 MUZAFFARABAD: PML-N candidate and former ambassador Mohammad Masood Khan was elected president of Azad Jammu and Kashmir (AJK) by the legislative assembly on Wednesday.
Masood was given 42 votes while PPP candidate Chaudhry Latif Akbar was given six votes. The Muslim Conference and Pakistan Tehreek-i-Insaf boycotted the election.
Masood Khan, who belongs to a suburb of Rawalakot city falling in the constituency LA-19, Poonch-III, was nominated by the PML-N as its candidate for the office of AJK president after the party won by a landslide in the general elections for 41 direct seats of the AJK LA.
Masood Khan joined the Foreign Service of Pakistan in 1980 and went on to serve in various diplomatic positions. From August 2003 to March 2005, he served as the Spokesperson of the Ministry of Foreign Affairs and the Pakistan's Ambassador to China between September 2008 and September 2012 and as Pakistan's Permanent Representative to the United Nations between October 11, 2012 and February 07, 2015.
He served as the Director General of Institute of Strategic Studies Islamabad between February 2015 and August 4, 2016.
Masood Khan has served as Pakistan's permanent representative to United Nations Office at Geneva from February 2005 to September 2008. During this time, he stayed as chairman for many forums including International Organization for Migration Council, Group of 77 and China at Geneva, Government Group of International Labour Organization (ILO), Conference on Disarmament and Organisation of the Islamic Conference at Geneva.
In September 2008, Masood Khan was appointed as Pakistan's Ambassador to People's Republic of China replacing Salman Bashir who proceeded as Foreign Secretary at Ministry of Foreign Affairs. In October 2012, he was appointed as Pakistan's Permanent Representative to the United Nations, New York.