Maryam to arrive in Islamabad for accountability case hearing: sources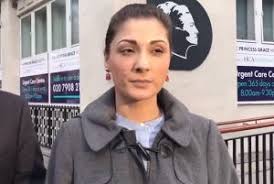 LONDON, OCT 07 (DNA) – Sources have reported on Saturday that Maryam Nawaz is to depart for Pakistan today to appear for a hearing in an accountability case.
Reportedly, daughter of the ousted premier would land in Islamabad in the morning on Sunday and would appear for the hearing on Monday.
It was also told that ex-premier Nawaz Sharif consulted his legal team in his Mayfair residence over the corruption references against the family.
According to the sources, it was advised by the legal experts that Maryam appears for the hearing on Monday.
The former first family of Pakistan is staying in Mayfair apartments as Kulsoom Nawaz was shifted to London for treatment of lymph nodes cancer.
She was joined by Maryam after she led successful electioneering in the constituency.
Nawaz Sharif appeared for two hearings of the accountability cases against him before he flew to London earlier this month.