Malaysian envoy hosts dinner for humanitarian relief mission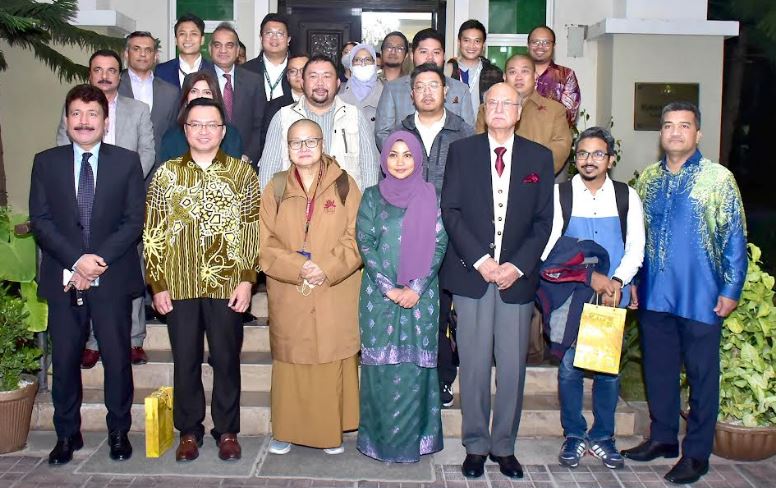 Venerable Jue Cheng says she was keen to explore cultural and historical heritage of Pakistan
Ansar M Bhatti
ISLAMABAD: Venerable Jue Cheng Deputy Secretary General Southeast Asia of Buddha's Light International Association has said by visiting Pakistan her dream has come true because it was her earnest desire to visit this beautiful country at least once. She had heard a lot about Pakistan and its rich cultural heritage and now had a chance to explore it physically.
Venerable Jue Cheng expressed these views while speaking at a dinner hosted by Charge d Affaires of the Malaysian High Commission DEDDY FAISAL AHMAD SALLEH. Mr. Aamer Ahmed Atozai Director-General of East Asia Pacific Ministry of Foreign Affairs, Lt. General Tahir Mahmud Qazi Former High Commissioner of Pakistan to Malaysia and others also attended the dinner.
Venerable Jue Cheng further said, during this trip she, along with her delegation, will have a chance of visiting Afghanistan as well – a country which, like Pakistan also remained at the top of her agenda. She was all praise for Pakistani government for taking care of Buddhist places in Pakistan.
Amir Ahmed Atozai, Director General Ministry of Foreign Affairs in his speech welcomed the delegation to Pakistan and suggested them explore more and more cultural and historical sites.
He said the relationship between Pakistan and Malaysian has always been outstanding because of unanimity of views on regional as well global issues. This beautiful relationship has been reinvigorated by the recent high level meetings between the leaderships of two countries.
He said Malaysia had made tremendous progress in all spheres and Pakistani too feels pride in the fact that our brotherly country is making positive strides towards development and economic growth. He also briefly talked about recently held OIC forum on Afghanistan and termed it a great success.
Afghanistan he said is also a brotherly country and Pakistan earnestly wanted peace to prevail there. Afghans have suffered the most and whatever happens in Afghanistan it has a direct impact on Pakistan as well therefore it is essential that peace returns to Afghanistan sooner rather than later.
Charge d Affaires of the Malaysian High Commission DEDDY FAISAL AHMAD SALLEH in his extended warmest welcome to all distinguished guests to Rumah Malaysia or Malaysia House for the dinner. He said the dinner was hosted for the Delegation of Malaysia Humanitarian Relief Mission to the People of Afghanistan.
While briefing about the delegation he said, Wisma Putra, the Ministry of Foreign Affairs of Malaysia, in collaboration with the private sector – Golden Horses Digital Investment Bank and NGOs including Global Peace Mission and Buddha's Light International Association (BLIA), is undertaking Malaysia's humanitarian relief mission to Afghanistan following the dire humanitarian crisis in Afghanistan.
'Our Foreign Minister, the Dato' Sri Saifuddin Abdullah this morning sent off the special flight bound for the capital city Kabul, with a night stopover in the beautiful city of Islamabad. The special flight transported 5 tonnes of winter clothing, jackets, blankets, milk powder and other essentials for the needy people and children of Afghanistan. These items will be distributed by the Global Peace Mission and its Afghan NGO affiliates to the intended recipients. This token contribution by the people of Malaysia is hoped to ease their suffering during the harsh winter season', he added.
Deddy Faisal further said, Malaysian NGOs have been actively involved in improving the lives of communities at home and abroad. NGOs such as GPM, Muslim Volunteer Malaysia (MVM), Muslim Care Malaysia (MCM), MERCY Malaysia and Pertubuhan Ikatan Kekeluargaan Rumpun Nusantara (HaRUM) have been undertaking humanitarian relief missions for the Afghan people. BLIA, to be followed by Malaysian Consultative Council for Islamic Organization (MAPIM), will now also provide much needed assistance to Afghanistan. In addition, the Centre for Economic Policy Research Malaysia is also ready render assistance, especially in establishing Islamic banking and finance based on the Syariah jurisprudence.
Malaysian private sector companies and institutions stand ready to offer their expertise and in-depth knowledge to Afghanistan to help rebuild and reconstruct Afghanistan including in the areas of infrastructure development, health, education, mining of mineral resources, telecommunications, and new energy.
In the true spirit of Keluarga Malaysia, the humanitarian relief mission demonstrates the solidarity of the people of Malaysia, of different ethnicities and beliefs coming together to render assistance to the Afghan people during their time of need.
He said Malaysia will continue with efforts to have a constructive engagement and extend assistance, as well as capacity building to the brotherly people of Afghanistan.
(Detailed coverage of the event in the coming issue of CENTRELINE)