KPK govt schools in Swabi district open early childhood education centers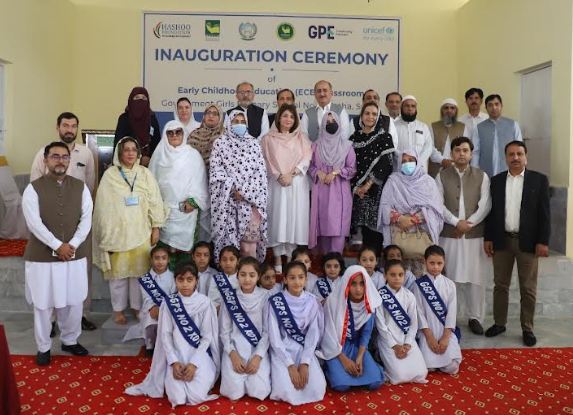 ISLAMABAD, OCT 18 /DNA/ – UNICEF and Hashoo Foundation, in collaboration with the Khyber Pakhtunkhwa Elementary and Secondary Education Department (E&SED), are proud to announce the inauguration of 500 Early Childhood Education (ECE) classrooms across twenty-three districts in Khyber Pakhtunkhwa (KP). This transformative initiative is made possible through funding from the Global Partnership for Education (GPE) and Education Cannot Wait (ECW).
Aligned with the Khyber Pakhtunkhwa Education Sector Plan 2020-2025, the E&SED underscores the critical role of ECE in a child's development and learning, making it a top priority for the region. To actualize this commitment, the existing 13,000 Katchi classrooms in primary schools will be converted into modern ECE classrooms.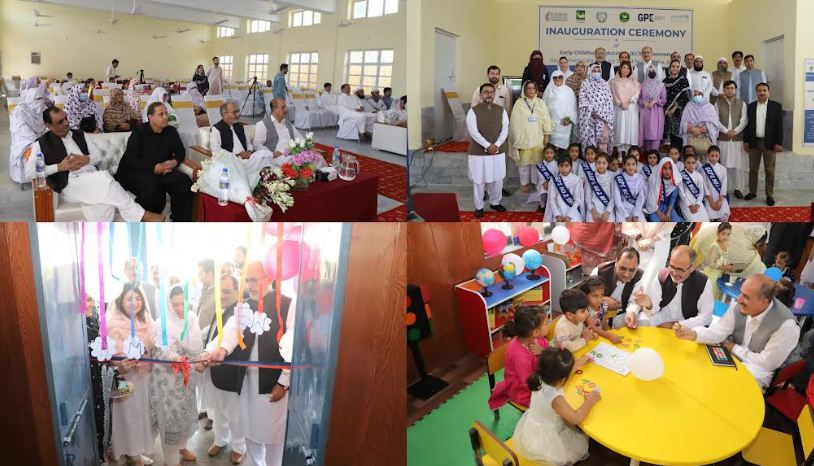 In pursuit of the goal to refurbish 13,000 classrooms into quality ECE centers, UNICEF has partnered with Hashoo Foundation in a groundbreaking project titled "Transformation of ECE Classrooms in 23 Districts of Khyber Pakhtunkhwa." The ECE Centers being inaugurated recently are among the 500 centers to be established by Hashoo Foundation, in collaboration with the E&SED and the Implementation Support Unit of the E&SE Directorate, spanning 23 districts in KP.
The funding for these projects is provided by the Global Partnership for Education (GPE) and Education Cannot Wait (ECW), supporting 1,600 centers and 100 centers, respectively. This initiative is set to benefit over 96,000 children in Khyber Pakhtunkhwa.
UNICEF has a long-standing partnership with the E&SED, offering technical and financial assistance to enhance educational opportunities, particularly for girls, and to improve education service delivery through evidence-based planning. Their collaboration focuses on multiple areas, including access, equity, inclusion, quality, governance, and management of education.
The primary objective of this endeavor is to create a nurturing environment for early childhood education and expand educational opportunities, especially in underserved communities, with a strong emphasis on advancing female education.
Hashoo Foundation, with a rich history of promoting education, has reached 550,278 children since launching the Hashoo Schools initiative in 2002. Notably, the Child Education Support Program (CESP), benefitting 25,500 girls and 24,500 boys, and the 2022 Quality Education Program (EQuIP) exemplify the foundation's dedication to enhancing the educational landscape.
The inauguration ceremony united key stakeholders, including representatives from UNICEF, the Elementary and Secondary Education Department (E&SED), Hashoo Foundation, the KP government, and the local community. Their significant support and contributions were greatly appreciated.
Abdul Waheed, Acting Country Director of Hashoo Foundation, expressed his heartfelt satisfaction at witnessing the inception of the ECE project, a promise of a brighter future for Khyber Pakhtunkhwa's children. The UNICEF Education Specialist reiterated their unwavering commitment to supporting partners like Hashoo Foundation, highlighting the profound impact of establishing 500 ECE schools on children's lives across KP.
The Secretary of the Elementary and Secondary Education Department lauded the tireless efforts of GPE, UNICEF, and Hashoo Foundation, reaffirming a strong commitment to provide full support. Recognizing that the project's success will empower children with education while strengthening communities and contributing to the overall development of the region, he emphasized the department's dedication to this transformative journey.