Kenya, Congo-Brazzaville sign 18 cooperation deals, abolish visa restrictions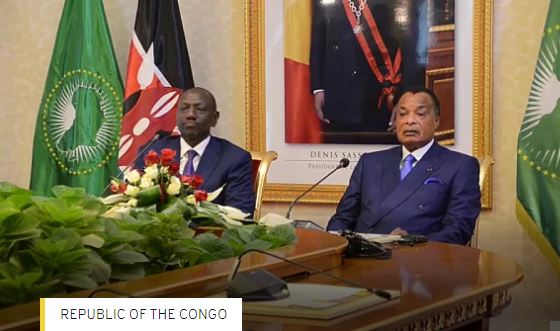 The Kenyan Head of State, William Ruto, on a state visit to Congo-Brazzaville has announced the removal of visa restrictions to ease movement of people between his country and
Received on arrival by his counterpart Denis Sassou Nguesso, President Ruto addressed a message to members of parliament (deputies and senators) gathered in congress.
He deplored the fact that Africa is a victim of climate change, despite emitting only 4% of greenhouse gases.
The Kenyan leader also expressed shock at the fact that the continent's low-income countries are spending 24% of their GDP on debt payments, which are strangling them.
He also welcomed the advent of Zlecaf, which will help to break down borders and increase intra-African trade, which currently stands at just 17%, compared with 70% in the European Union.
To facilitate the movement of people and goods, William Ruto announced the abolition of visas between Congo and his country.
"We, the Government of Kenya, have already taken the decision that nationals of Congo-Brazzaville will no longer need visas to enter Kenya. This will enable us to increase trade between our two countries. Our peoples, businessmen and others need this".
One agreement was signed to this effect, and 17 others in various fields: agriculture, livestock, environment, and tourism. mining industries and geology, diplomatic training, promotion of cooperatives, among others.
President Ruto expressed his desire to relaunch Kenya Airways between Nairobi and Brazzaville by the end of the year. The airline stopped serving the Congolese capital several years ago.
Stand up: "It was in the banqueting hall of this People's Palace that President Ruto was treated to dinner. It was also here at the Palais du peuple that he signed a series of agreements with his counterpart Denis Sassou Nguesso before heading for his stronghold of Oyo, 400 kilometers north of Brazzaville.