Karachi will not be held hostage anymore, assures Nisar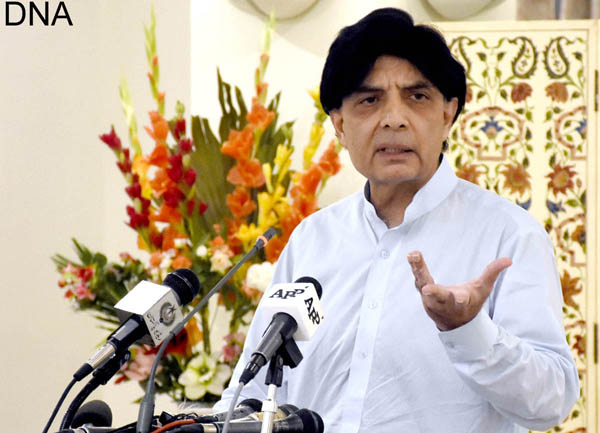 KARACHI: Interior Minister Chaudhry Nisar on Wednesday said Karachi will not be held hostage anymore and congratulated the people and the security forces deployed in the metropolis for foiling the attempt to "take the city hostage".
"This was for the first time in 25 years that Karachi was not held hostage."
Nisar was addressing a press conference following his meeting with the Sindh governor.
Nisar on the occasion also appreciated the role played by the media while it was "under attack".
Referring to the earlier diatribe of MQM's chief, in which he had spoken against the state of Pakistan and its armed forces, Nisar said "the speech a day before from a leader of a political party has revealed everything and cleared doubts".
Nisar stated that it is not a battle between urdu-speakers and the state, but some quarters might try to promote the agenda.
"Karachi was always disturbed on the whims of an individual, which resulted in heavy economic losses."
Nisar also said that the British government has been contacted regarding the speech which incited violence in Karachi earlier this week.
"We have asked them to take action according to evidence and we will provide further proof," stated the interior minister.
The federal interior minister, on instructions from the prime minister, held a high level meeting with Sindh Governor Dr. Ishratul Ibad earlier today.
The federal government has promised its cooperation to maintain peace in Karachi, said Nisar. who flew to the metropolis earlier today for a meeting with Sindh Governor Dr. Ishratul Ibad.
"The peace in Karachi is thanks to the sacrifices of the Rangers and Sindh police. The federal government will work with the provincial government to sustain the peace in Karachi and keep it from deteriorating," said Nisar.
"Pakistan's integrity will not be allowed to be harmed."
"Legal action will be taken against those who take the law into their own hands," said the Sindh governor.
His visit comes just a day after senior Muttahida Qaumi Movement (MQM) leader Farooq Sattar for the first time said that his party should operate from Pakistan alone. Sattar accepted that "there is a problem" and that Hussain's frequent apologies after incendiary statements is an issue that needs to be resolved.
Sattar's remarks came after he and Leader of the Opposition in the Sindh Assembly Khawaja Izhar-ul-Hasan were released from Rangers custody after overnight detention following violent protests in the metropolis allegedly spurred by remarks made by MQM by chief Altaf Hussain.
Farooq Sattar and Khawaja Izhar were taken into custody by the Rangers on Monday night at Karachi Press Club after suspected MQM workers attacked an ARY News office in the Saddar area of the metropolis. One person was killed and several others injured as police clashed with the angry mob.