Kaira condemns recent conviction of veteran Kashmiri leader Yaseen Malik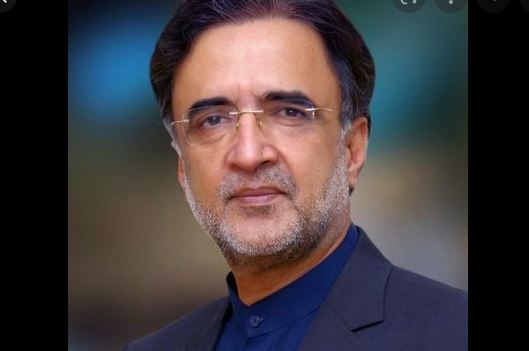 Islamabad, MAY 21 /DNA/ – Adviser to the Prime Minister on Kashmir Affairs and Gilgit Baltistan Qamar Zaman Kaira has strongly condemned the recent conviction of the veteran Kashmiri leader Yaseen Malik on basis of flumpsy and fake grounds. He said, the political motivated unjustified trail is a grave human rights violation and is against the norms of fundamental rights.
The Hurriyat leader Yasin Malik has been continuously struggling against atrocities such as extra judicial killings, raping of women etc committed by the Indian government in Indian illegally occupied Jammu and Kashmir. The Adviser said , India had failed to dismantle the firm resolve of Yaseen Malik after keeping him under illegal detention in Tihar Jail for last many years. Now the Indain authorities have convincted  Yaseen Malik in a fake trail where he had no chances of a fair hearing, he said.
Yaseen Malik didn't engage any lawyer in defence of baseless charges against him, he added.  Qamar Zaman Kaira said that each state department of so called secular India is today following the unfortunate ideology of RSS in form of Hindutva. He called upon the international community, international human rights organisations especially Human Rights Watch, Amnesty International to take partical steps to stop India from carrying out this unjustified and unilateral trail against Yaseen Malik. He reminded the world community that Indian had already committed the judicial murders of Kashmiri leaders Afzal Guru and Maqbool Bhatt in past. He cautioned that Indian was unfortunately following the same path as it had followed against Afzal Guru and Maqbool Bhatt. He made it clear that such condemnable Indian actions would fail to suppress the Kashmiri people. Today the Kasmiri youth stand utmost resolved in their right to self determination and are sacrificing their precious lives on daily basis for their just cause, he said. The Adviser said that he is hopeful that people of Indian illegally occupied Jammu and Kashmir will soon be able to secure their right of self determination. He urged India to desist from carrying out barbaric policies against the Kasmiri youth and it's leadership and would rather take partical steps for peaceful settlement of the Kashmir dispute according to the United Nations Security council resolutions in order to establish lasting peace in the region.