Islamic civilization can address global problems created by Western secularism: Academics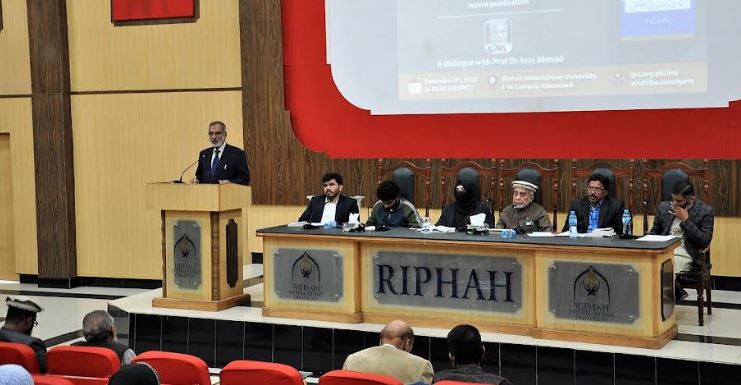 DNA
ISLAMABAD, DEC 5: The secular paradigm of the West has largely transformed the epistemological foundations of the Muslims' beliefs, which demands a revival of a universally applicable Islamic civilization.
This was the crux of a dialogue held with Prof Dr. Anis Ahmad, vice chancellor, Riphah International University (RIU), to discuss 'Civilization and Politics: Islam's Engagement with the West' in the context of the recent IPS Press publication 'Islam aur Maghrib ki Tehzeebi o Siyasi Kashmakash,' authored by Professor Khurshid Ahmad, patron-in-chief, Institute of Policy Studies (IPS), at Riphah International University (RIU), Islamabad.
The event, organized through the collaboration of IPS and RIU, was joined as discussants by Soumia Aziz, assistant professor, International Islamic University (IIU), Islamabad, Dr. Ghulam Hussain, IPS' research fellow and assistant professor, Bahria University, Islamabad, Dr. Hamid Farooq, assistant professor, RIU, Ahmad Hamidi, lecturer, RIU, and Ahmad bin Qasim, a young researcher and activist, whereas it was concluded by Chairman IPS Khalid Rahman.
Prof Khurshid Ahmad's book, as discussed by the panelists, serves as an asset of information and insights on Islam's political and civilizational outlook vis-à-vis the Western civilization. As indicated by several anecdotes from the book, the West is facing a crisis of human development and civilization, causing cultural conflicts and raising social, political, and moral issues like economic inequality, social injustice, and blasphemy in the name of freedom of speech vis-à-vis Islam.
The book emphasizes that the solution to these problems lies in Islamic civilization, providing guidance and set of actions to the Muslim and non-Muslim world alike. Thus, a revival of Islamic civilization is the need of the hour.
Prof Anis Ahmad applauded the contributions of Prof Khurshid Ahmad in extending the efforts of Muslim philosophers and scholars like Iqbal and Maududi, who presented a different approach and outlook to interpret Islam and its doctrines as universally applicable philosophies.
The fragmentation, coming from the secular paradigm, has created a sense of mental slavery and has incorporated Western secular trends in Muslim communities because of the lack of understanding of Islamic thoughts and ideologies, he stated in the context of Prof Khurshid's book.
Khalid Rahman, in his concluding remarks, pointed out that Muslim existence, like all human existence, is in a dilemma of survival and development. Sharing the statistics of a Pew research report, he said that the world's population is estimated to increase by 34 percent by 2060 and within this total the Muslim community is expected to grow by 70 percent. Where this growth seems encouraging, the increase in secular trends and their inclusion in Muslim societies have also caused complications.
To get rid of these dilemmas, Muslims must understand the Islamic paradigm of development and devise strengths through self, social, national and international development, he stressed.