Iran president blames foreign enemies for wave of schoolgirl poisonings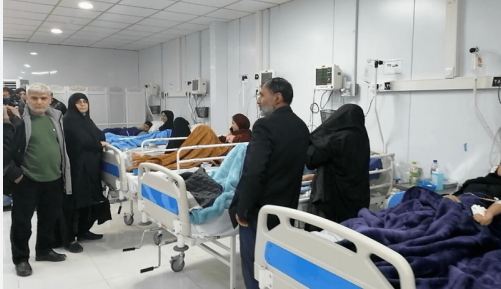 Tehran, MAR 3: Iranian President Ebrahim Raisi on Friday blamed a wave of poisonings of hundreds of schoolgirls around the country on Tehran's enemies.
The so-far unexplained poison attacks at more than 30 schools in at least four cities began in November in Iran's holy city of Qom, prompting some parents to take their children out of school. Since the outbreak of the mysterious poisonings, almost 1,200 students have required hospital treatment for breathing difficulties, an Iranian lawmaker said on Wednesday.
The poisonings have provoked a wave of anger across the country, with critics denouncing official silence in the face of the growing number of schools reportedly being targeted.
Iran's health minister said on Tuesday that hundreds of girls in different schools have suffered and some politicians have suggested they could have been targeted by religious groups opposed to girls' education.
Raisi, speaking to a crowd in southern Iran on Friday in a speech carried live on state television, blamed the poisoning on Iran's enemies.
"This is a security project to cause chaos in the country whereby the enemy seeks to instil fear and insecurity among parents and students," he said.
He did not say who those enemies were although Iranian leaders habitually accuse the United States and Israel, among others, of acting against it.
Separately, a senior Iranian official said a fuel tanker found next to a school in a Tehran suburb and which had also been spotted in two other cities was probably involved in the poisonings.
Authorities seized the tanker and arrested its driver, Reza Karimi Saleh, deputy governor of Pardis suburb, told the semi-official Tasnim news agency.
He is the first government official to report an arrest in connection with the wave of poisonings.
He said the same tanker had also been to Qom and Boroujerd, in Lorestan Province in western Iran, where students have also suffered from poisoning. He did not elaborate.
"Guards at a parking lot where the fuel tanker was parked also suffered from poisoning," Saleh said, referring to the Pardis site.
Social media posts are replete with photos and videos of hospitalised girls. Some said they were nauseous and suffered heart palpitations.
Others complained of headaches or heart palpitations. Reuters could not verify the posts.
Schoolgirls have also taken part in the anti-government protests triggered by the death in the custody of an Iranian-Kurdish woman last September. They have removed their mandatory hijabs in classrooms, torn up pictures of Supreme Leader Ayatollah Ali Khamenei and called for his death.
In one online video last year, schoolgirls were seen waving their headscarves in the air and heckling a member of Iran's paramilitary Basij force.
Germany, UN call for Iran school poisonings investigation
The United Nations backed a call from Germany's top diplomat on Friday urging a full and transparent investigation into the reported poisoning.
"The reports of schoolgirls being poisoned in Iran are shocking," Foreign Minister Annalena Baerbock said on Twitter.
"Girls must be able to go to school without fear — whether in Tehran or Ardabil. This is nothing less than their human right," Baerbock said.
"All the cases must be fully investigated," she said.
In Geneva on Friday, the UN rights office also voiced alarm at the poisoning allegations.
"We are very concerned about these allegations that girls are being deliberately targeted under what appear to be mysterious circumstances," spokeswoman Ravina Shamdasani told reporters.
The UN rights office wants any investigation into the cases to be "transparent and the findings are made public, to bring the perpetrators to justice".
World Health Organisation spokeswoman Margaret Harris meanwhile said the UN health agency was in contact with national health authorities and medical professionals about the incidents and was "using other means to understand more about the event so that we have better evidence".