Int'l moot unveils contribution of Vegetable oils towards SDGs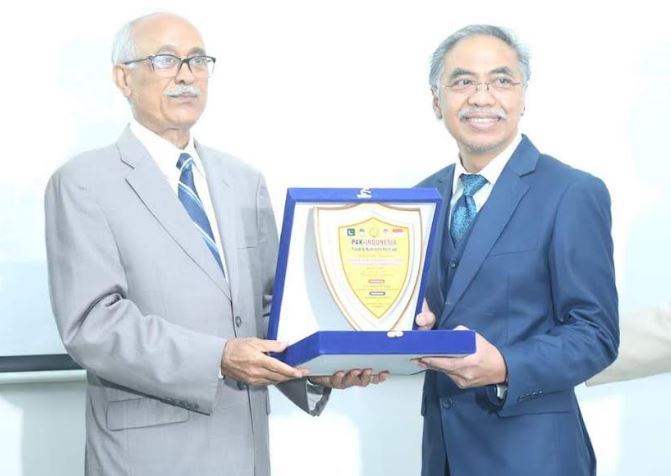 Ambassador of Indonesia to Pakistan, Adam M. Tugio along with Prof. Dr. Iqrar Ahmad Khan, Vice Chancellor UAF inaugurated the Pak- Indonesia Food and Nutrition festival 2022
DNA
ISLAMABAD: The two-day international conference on "Contribution of Vegetable oils towards sustainable development goals" at Faculty of Food, Nutrition & Home Sciences, University of Agriculture, Faisalabad (UAF) was concluded with some important recommendations to scientists working on Agricultural economics.
The International conference unveiled the potential of vegetable oils in Pakistan in terms of contribution towards socio-economic development.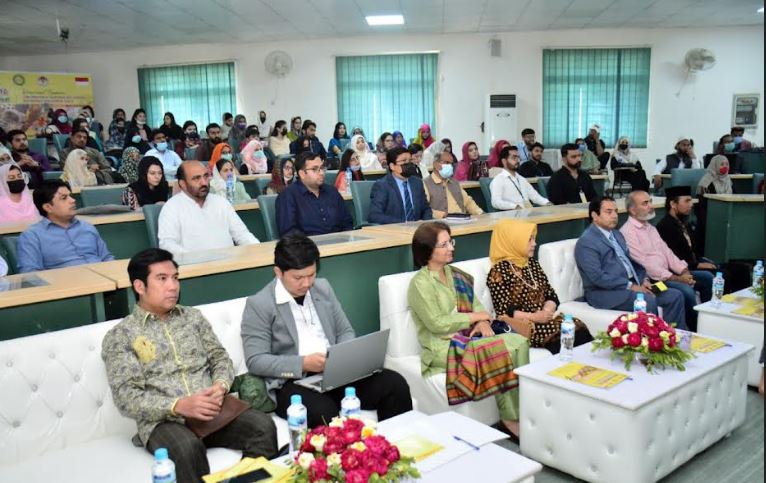 Ambassador of Republic of Indonesia to Pakistan, Adam M. Tugio along with Prof. Dr. Iqrar Ahmad Khan, Vice Chancellor UAF inaugurated the Pak- Indonesia Food and Nutrition festival 2022 at the National Institute of Food Science and Technology (NIFSAT). Ambassador Tugio opened the inaugural technical session on "Contribution of Palm Oil on Sustainable Development Goals and Trade Relationship'" at the conference. He said strong bilateral links in agriculture, academia, and industry would benefit both Indonesia and Pakistan in learning from each other's experiences and combating common challenges. Agricultural specialists of both countries need to intensify their efforts to promote oil seed crops, he communicated. He stated that Vegetable oil production is vital to Indonesia's economy because the country is one of the largest producers of Palm Oil. He further noted that due to efficient cultivating of palm oil in term of land uses, low use of water and pesticides, Indonesia's vegetable oil receives negative campaign. These campaigns are continuously evolving from degradation of environment to climate change, and from human rights abuses to health issues – all of them unproven and unsubstantiated with scientific findings.
The International science gathering was jointly organized by The Embassy of the Republic of Indonesia & Faculty of Food, Nutrition & Home Sciences, University of Agriculture, Faisalabad. Prof. Dr. Iqrar Ahmad Khan, Vice Chancellor UAF shared his thoughts that both countries should take benefit from each other experiences and meet the modern era's challenges like Food security.
Scholars from several countries, including Indonesia, UK, China, Spain, Canada, United Arab Emirates and Pakistan participated in the conference. A number of brainstorming sessions and invited presentations were held in the international conference. During the conference, foreign speakers from Indonesia, Prof. Dr. Muhammad Firdaus, SP, MSi from Faculty of Economic and Management, Institute of Agriculture Bogor (IPB) and Mr. Djono Albar Burhan, S. Kom, MMgt, (Intl. BUS), CC. CL. from Indonesian Palm Oil Smallholders Association presented their productive research in Vegetable oils to participating students and researchers.
Speaking on the occasion, Prof. Dr. Muhammad Firdaus from Indonesia pointed out that there is a dire need to have more research on vegetable oils as various SDGs could be fulfilled by developing effective strategies to enhance production of vegetable oil crop. He said that Palm oil needs more attention and growth in developing countries as Palm oil is the massive source for battling major issues like Food and energy security. During his presentation, he said that Palm oil industry can bring significant impact on Pakistan's economy if Pakistan is transformed to a trade and investment hub for Palm oil supply to South and Central Asia. He finalized his presentation by communicating further studies on rational choice of vegetable oil consumption is needed to strengthen palm oil positive image from both industry and households.
Mr. Djono Albar Burhan shared with the audience that Palm oil industry employs around 6.8 million workers directly and 12 million indirect workers contributing 3.5% to Indonesia's total GDP. He told the audience that Indonesia will be the main driver for increasing use of vegetable oil as feedstock for biodiesel in the coming decade reducing the importing of diesel in Indonesia. Mr. Djono explained about the Indonesian Sustainable Palm Oil (ISPO) Certification that is mandatory for Private & Government parties to follow for good agricultural practices and sustainability. Concluding his presentation, he said that 13 SDGs including Climate action and zero hunger are achievable through Palm oil production and "If There Is No Palm Oil, there will be no SDGs".
Both in-person and online panel sessions provided an opportunity to multiple presenters to speak on a common theme of the conference. Prof. Dr. Basma Elahi from, University of Chester, UK, Prof. Dr. Jordi Saldo Periago from Universitat Autonoma de Barcelona, Spain, Prof. Dr. Zeng Xin An from University of Technology, Guangzho, China, Prof. Dr. Aizad Ahmad from Yorkville Univ. & Conestoga College, Canada and Mr. Shahid Hafeez Khan from Tate & Lyle DMCC, UAE were among the prominent online panelists.
Online presentations by the panelists were followed by questions and answers. Together with academic exercise and exchange of research papers, the conference hosted a Food festival featuring exhibition of Indonesian cuisine and craft. In the festival, local and Indonesian students displayed around 130 food stalls helping students build entrepreneurship skills.