India asks Pakistan to keep its nose out of her internal matters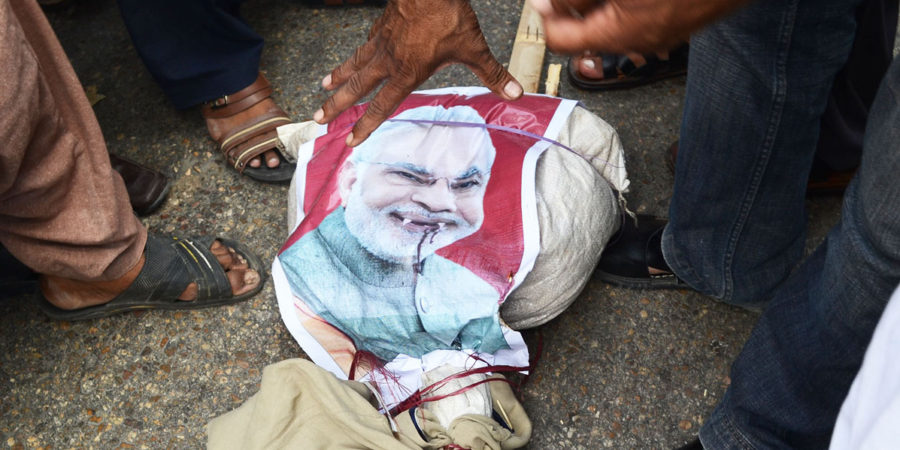 ISLAMABAD: The Indian foreign ministry on Friday expressed its dismay over what it called the continued attempts by Pakistan to interfere in its "internal matter".
The statement issued by Indian Ministry of External Affairs was in response to the cabinet meeting in Pakistan, which discussed the recent incidents of violence in Kashmir including the death of Hizbul Mujahideen commander Burhan Wani.
"India completely and unequivocally rejects the decisions adopted by Cabinet of Pakistan on the situation in Jammu and Kashmir. We are dismayed at the continued attempts by Pakistan to interfere in our internal matters," reads the statement posted by Indian ministry's spokesman Vikas Swarup on his Twitter profile.
Our response to the special meeting of Cabinet of Pakistan today on recent developments in the Indian state of J&K pic.twitter.com/FcxlMUuwvF

— Vikas Swarup (@MEAIndia) July 15, 2016
Earlier in the day, Prime Minister Nawaz Sharif chaired a cabinet meeting at Governor House in which top government officials condemned the labelling of slain Hizbul Mujahideen commander Burhan Wani as a terrorist by the Indian government.
The statement adds that Pakistan or any other party has no right to speak on behalf of Kashmir and the "continued glorification of terrorists belonging to proscribe organisations makes it amply clear where Pakistan's sympathies continue to lie".
The Indian ministry also criticised the upcoming elections in Azad Jammu and Kashmir and termed the exercise as one of the attempts to by Pakistan to ingratiate itself with people of Kashmir.
Meanwhile in Pakistan, that cabinet members agreed all Pakistani embassies worldwide as well as the Foreign Office should register a protest against Indian atrocities in India-held Kashmir by submitting resolutions to the United Nations.
Members of the federal cabinet also decided to call a joint session of parliament to discuss the Kashmir issue, but a date for the session was not agreed upon, Federal Minister for Ports and Shipping Mir Hasil Khan Bizenjo said.
The government also announced that Pakistan would observe a black day over violence in Kashmir on July 19.
Wani, the Hizbul Mujahideen chief of operations, was killed in fighting last Friday after Indian troops, acting on a tip, cordoned a forested village in the southern Kashmir's Kokernag area. Two other members of Wani's group were also killed in the gun battle.