Imran sets November 2 as 'Islamabad shut down' date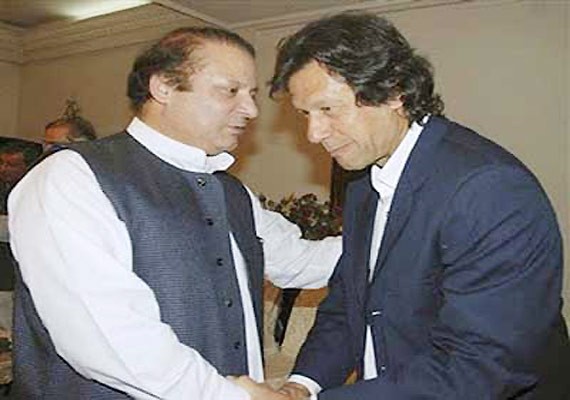 ISLAMABAD, October 17 (DNA): Chairman of Pakistan Tehreek-e-Insaf, Imran Khan on Monday announced to 'shut' the federal capital to pressure the government on November 2 for accountability of the premier.
The announcement came in as revision to the previously declared date, October 30.
While addressing the press conference in Islamabad, Khan warned the government of strong reaction if it attempted to fail the 'massive' protest using force.
The PTI leader took a jibe at different political parties namely, Pakistan People's Party (PPP) for not being 'serious' to counter government's corruption. He claimed that Asif Ali Zadari, former president, stood on the same platform with the corrupt government and Prime Minister Nawaz Sharif in the issue.
Khan said that PTI made attempts to bring together different opposition parties for alleged betterment of the country. He has invited every Pakistani to participate in the sit-in on November 2 to move the country towards prosperity by getting rid of corrupt leaders.
There would not be any sit-in after the one to be held on November 2 as it was the decisive move by the political organisation, he asserted.
The protest in Islamabad by PTI was announced by the party chief on September 30 in a rally in Lahore's Raiwind while he 'granted' the premier time by the end of Muharram to present himself for
The Chairman PTI had launched Ehtesab (accountability) Movement in the country against the governing PML-N.
Initially, Imran Khan demanded a probe into the health of the elections 2013, which his party thinks were rigged.
Later names of several Pakistanis including Nawaz Sharif's children Maryam, Hussain, and Hasan surfaced in one of the world's biggest ever data leaks through an online searchable database made public by the International Consortium of Investigative Journalists (ICIJ) in April 2016, following which the prime minister had formed an inquiry commission to probe his family's alleged links to offshore accounts.
Unfortunately, the federal government and the opposition could not agree on drafting joint terms of reference (ToR) for the, which would probe Panama Papers Leaks. DNA
============