CPEC will usher in new era of development: President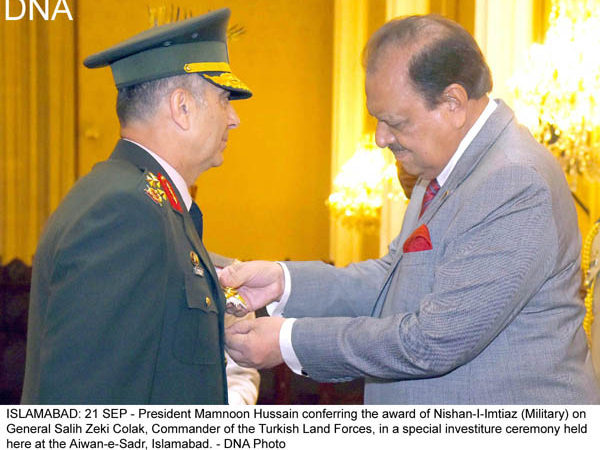 ISLAMABAD, 17 OCT (DNA) – President Mamnoon Hussain has said educating the younger generations is the best way to make the country prosper adding CPEC is a big project.
Addressing a function organized by Benazir Income Support Programme in Islamabad on Monday, he said education provides equal opportunities of employment and development for all the individuals.
The President stated that the Federal Government is devising new educational curriculum adding that most of the work has been completed and next year unanimous education system will be implemented throughout the country with the consultation of all provinces.  He emphasized that the quality of education cannot be improved without imparting training to teachers on modern footing and called for paying special attention on their training.
On the occasion, Minster of State for Education Baleegh-ur-Rehman, Chairperson BISP Marvi Memon, Balochistan's Minister for Education Abdur Rahim, KPK Education Minister Atif Khan, Minister for Education of Azad Kashmir Iftikhar Gilani, World Bank's Country Director for Pakistan Batchamuthu Illangovan and Representative of Department for International Development (DFID) Ms. Joanna Reid also addressed the event.
The President said that enrolment of 1.3 million children in schools under Waseela-e-Taleem Programme is a big achievement adding that the secret to progress of nations lies in education. The President stressed that the government and its institutions should prioritize provision of education to children of poor families and lay foundation of a society which can compete with others.
The President said that Pakistan has been confronting the menaces of terrorism and extremism for a long time which have greatly harmed our society and educational institutions but now these menaces have been controlled as a result of Zarb-e-Azb and Karachi operation. He praised the armed forces, LEAs and the people for unitedly overcoming these problems.
The President stated that the twin problems would not have emerged if a large section of population particularly the marginalized and the youth living below the poverty line were not deprived of education.
The President emphasized that since education is a fundamental right, greater efforts are needed to ensure enrolment of millions of remaining children who are out of school and called upon the federal and provincial governments and other related institutions to cooperate with BISP's Waseela-e-Taleem initiative.
The President said that a bright future awaits Pakistan in the form of China-Pakistan Economic Corridor (CPEC) and other development projects. In order to take full benefit from these emerging opportunities, we need a skilled workforce for which we need to train our youth in different fields of technology, trade and industry to avail the emerging opportunities and increase national per capita income, stated the President.
President Mamnoon Hussain said that Pakistan's economy has improved as a result of sound economic policies of the government and its benefits are reaching the people.  He noted that International Financial Institutions (IFIs) have also praised the economic policies of the government.
The President thanked the international partners particularly the Department for International Development (DFID) and World Bank for extending extraordinary cooperation for promoting education in Pakistan.