Imran responds to Sanaullah's claims, says minister 'so obviously' trying to cover up 'horror stories'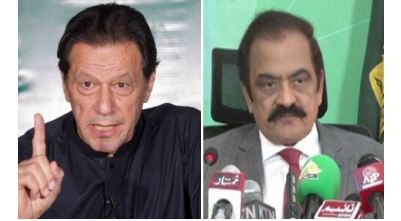 LAHORE, MAY 28: PTI Chairman Imran Khan on Sunday hit back at Interior Minister Rana Sanaullah's allegations that the party had planned to orchestrate a "raid and rape" at a known worker's home in an effort to malign law enforcement agencies, terming them an effort to pre-empt and cover up "horror stories".
Imran's remarks came hours after Sanaullah, in a post-midnight press conference in Faisalabad, alleged that intelligence agencies had intercepted a telephone call in which a plan to "stage a raid and rape" at a known PTI worker's home was being discussed.
The interior minister did not provide any proof of his claim.
"A plan […] was being prepared. That there is an actual raid at a home — and that home will be of a known PTI worker — and an incident of firing occurs there, resulting in casualties," he said, adding that this was being planned to highlight human rights violations in Pakistan.
"In the same conversation that was intercepted, a second drama was that a rape is carried out. Meaning that an actual rape is carried out and it is blamed on law enforcement agencies [and] that it is happening at the government's behest."
The minister alleged that the PTI had then planned to highlight the issue on international media. He said that there were chances that the act would be carried out "tonight" (Sunday night) which is why the government had deemed it "necessary to make the nation aware of the devilish design".
The minister had also taken to Twitter with his allegations. "The country's agencies intercepted a conversation, revealing disturbing plots and planned actions, including a raid on the PTI leader's house and a staged rape," he said.
Sanaullah reiterated that the objective was to "falsely implicate law enforcement institutions in the crime" and to subsequently raise the issue at an international level.
Responding to the allegations, Imran said: "If there were any doubts about women being mistreated in jails, this press conference from this certified criminal should remove all such doubts.
"He is so obviously trying to cover up and pre-empt the horror stories about to break in the media," he said, adding that women were being "mistreated and harassed by the state" for protesting peacefully.
Meanwhile, Islamabad police urged officials to ensure that cameras in police stations, offices and jails were working properly to avoid "plans to target officials".
The police force noted that a "planned campaign to defame institutions" had been initiated under which officials — regardless of their post — would be targeted.
"While all women are respectable, some can be used in this campaign," Islamabad police said, calling on officials to "keep matters transparent to avoid such tactics".
Activists, journalists perturbed at minister's press conference
On the other hand, activists and journalists were left perturbed at Sanaullah's press conference.
Arif Rafiq, a senior resident fellow at Atlantic Council's South Asia Centre, called the optics of the minister's tweet and press conference "strange to say the least".
"I hope those who've been actively spreading Pakistani government talking points take a pause on this one. Especially if you're a woman. There has to be a red line, right? Please don't let politics consume all of your values," he tweeted.
Rafiq termed the subject matter "very serious". "But given that it's the government that has introduced this issue to the public, naturally my comments are in response to what it has said," he added.
Activist and lawyer Jibran Nasir also raised a number of questions.
"Who are the people whose call was intercepted? Who is the PTI leader whose house was the target? How were PTI members planning to stage the raid? Were they going to dress like law enforcement agencies and have official gear and vehicles at their disposal or are members of LEAs colluding with them?
"Don't you think your statement without any specific details will only work well to discredit any victim who may have real grievances and might have faced sexual assault at the hands of LEAs?
"Isn't the ongoing crackdown already internationalised with enforced disappearances, repeated arrests, the dismantling of a national party and military court trials, and Parliamentarians around the world condemning it?" he asked.
"At a time when the polity is polarised and each side has reasons to doubt the other, the one thing we should all agree on is transparency in the actions of LEAs and the state: the manner of arrest, investigations being carried out and trials of those under arrest," he said.
Journalist Ali Mustafa asked if holding a press conference past midnight was a "foregone conclusion that gross human rights violations have taken place in Pakistan".
"It looks quite ominous given the urgency of those already rushing to deny something in advance," he tweeted.
Vice South Asia Editor Sahar Habib said: "Since the agencies love to release illegally taped conversations, surprised we didn't hear this one on WhatsApp already."