Imran Khan condemns Punjab, KP police for raiding, vandalizing PTI leaders' homes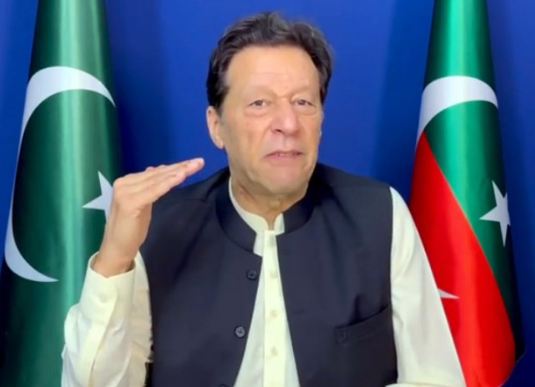 Says absolutely shameful, condemnable the way Elahi being treated in jail 
ISLAMABAD, JUN 16 /DNA/ – Pakistan Tehreek-e-Insaf (PTI) Chairman Imran Khan strongly condemned Punjab and Khyber-Pakhtunkhwa (KP) police for unleashing a reign of terror against PTI leaders and workers, who, he said, barged in their houses to terrorise descent people and vandalize their homes to pressurize them to leave PTI. 
In a statement on Friday, PTI Chairman came down hard on the police for unlawful raids at the senior PTI leadership houses in KP. "Police has barged in their houses and stolen three cars from Shah Farman and his brothers residence while two cars each stolen from Asad Qaiser and Shahram Tarakai's house," he added.
Imran Khan said that victimisation reached another level, never witnessed even during the worst dictatorship in Pakistan.
"All this is achieving is creating hatred and animosity against this fascist regime while increasing sympathy and vote bank for PTI," he added.
PTI Chairman stated that it was absolutely shameful and condemnable the way Chaudhry Pervez Elahi, 77 years old, was being treated in jail only to pressurize him to quit PTI.
He went on to say that Punjab police has unleashed a reign of terror against PTI members. "Apart from breaking all norms of decency, this is the height of cowardice to terrorize decent people and law abiding citizens with armed police barging in and vandalizing their house," he added.