Illegal Afghans begin journey back home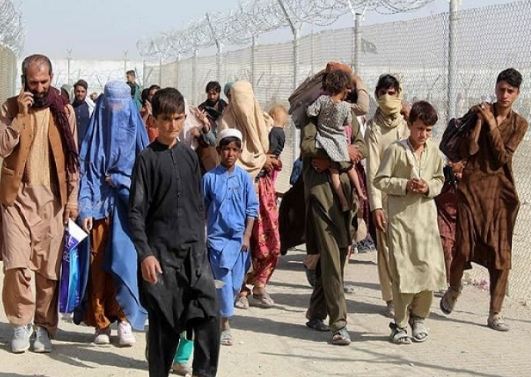 To accommodate the returnees, authorities have assigned a parking area at the Torkham border, ensuring staff deployment for attending to them
Shamim Shahid
Peshawar: Aghan immigrants residing illegally in Pakistan have started leaving the country after Islamabad issued a November 1 ultimatum to them a private newspaper reported.
The border officials, on Thursday, said more than 30 families comprising approximately 1,000 members have begun their journey back to war-torn Afghanistan following Caretaker Interior Minister Sarfraz Bugti's announcement that action will be taken against those staying illegally in Pakistan.
To accommodate the returnees, authorities have assigned a parking area at the Torkham border, ensuring staff deployment for attending to them and registration completion.
According to the officials, Afghan families in cities across the country have begun their departure to avoid being arrested and other consequences that could follow due to their illegal residence.
He said although they possessed Afghan Citizen cards issued by the National Database and Registration Authority (Nadra), they were voluntarily returning to Afghanistan, as the economic and security situation in their country was better compared to Pakistan.
Hasrat urged fellow Afghans to leave Pakistan, citing difficulties in paying utility bills and the lack of stable job opportunities and businesses.
The Afghan citizens also requested financial assistance for those returning to Afghanistan, to enable them to rebuild their houses and start their livelihoods there.
Previously, Pakistan had requested all illegal immigrants to leave the country voluntarily by October 30 and warned of arrests and deportations after the deadline's expiration.
On the other hand, a significant number of Afghan citizens residing in various Pakistani cities appealed for flexibility in the conditions as they said that their children were receiving education in Pakistan.
They expressed concerns that the abrupt departure would disrupt their children's education. They were particularly worried about girls' education in Afghanistan, as the Islamic Emirate of Afghanistan had banned girls' from going to school.
Meanwhile, speaking for the first time on the recently announced policy of regulating all illegal aliens residing in Pakistan irrespective of their nationality, the Foreign Office clarified that Pakistan's national policy on Afghan refugees remains unchanged.
"We continue to host 1.4 million Afghan refugees with exemplary generosity and empathy despite resource constraints, and economic challenges. As the situation in Afghanistan stabilises, we believe that it is the right time to upscale international efforts to create conditions conducive to the voluntary repatriation of Afghan refugees with honour and dignity," said the spokesperson at the Foreign Office during the weekly media briefing.
She emphasised that Pakistan's recent decision is not targeted against Afghan refugees.
"The decision of the Government of Pakistan is aimed at regulating illegal aliens residing in Pakistan, irrespective of their nationality. And Pakistan is well within the parameters of our sovereign domestic laws to act in this context," she added.
Reacting to criticism about Afghan and other citizens being forcibly returned, the spokesperson said, "I would also like to state that the government's policy envisages a phased and time-bound repatriation of all illegal foreigners residing in Pakistan. These include cases of individuals who are overstaying their visas and do not possess valid documentation. And I reiterate this is not directed against any specific nationality."
With regards to the question about engagement with the Afghan authorities, she pointed out that Pakistan remains in contact with Afghan authorities and will continue to engage with them on all matters of bilateral interest, including the safe return of the refugees.
"However, as I said the latest decision pertains to illegal migrants and it does not pertain to refugees; these are two separate cases," she said. On threats from across the Western borders, Pakistan says it has very clearly articulated its concerns about the threat of terrorism that it faces emanating from Afghanistan.
"This statement has been made by Pakistan on several occasions, including at international conferences and forums. At the same time, we believe in diplomacy and dialogue, and we will continue to engage with Afghan authorities to fight this threat and to ensure that Afghan soil is not used to foment terrorism against Pakistan," said the FO spokesperson.
Regarding the repatriation of any foreigners who may be living here illegally, she said that the laws of Pakistan will take their course.
The Government of Pakistan will undertake this exercise in a phased, deliberate and orderly manner.
"The process will proceed depending on the number of illegal immigrants in Pakistan and the arrangements for their return to their respective countries," she added.
"For individuals who violate Pakistani immigration laws, there are punishments in place and there are ways to deal with such cases, including repatriation to their home countries. With regards to the details on the procedures and the financial aspects of it, I would advise you to contact the relevant ministry, the Ministry of Interior which is in charge of law and order and in implementing this policy," she advised.
Meanwhile, Pakistan and Afghanistan on Thursday met at a high-level meeting in Tibet where Islamabad reaffirmed its commitment to further strengthen bilateral ties with Kabul.