IED blast in South Waziristan kills security man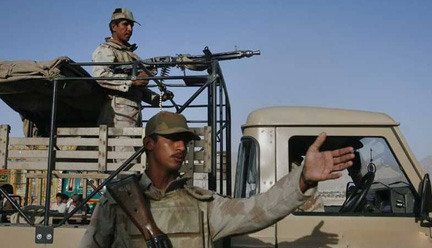 PESHAWAR: One security personnel was killed and another sustained injuries in an improvised explosive device (IED) blast in Wana, a town in South Waziristan, security sources said.
An IED planted on the roadside struck a security forces' vehicle in Talai area of South Waziristan, killing one security official.
The injured was taken to Combined Military Hospital Peshawar for treatment.
Security forces cordoned off the area after the explosion and started a search operation to apprehend suspects involved in the attack.
Homemade roadside bombs are a major weapon of militants who attack government forces in the northwestern province of Khyber Pakhtunkhwa and tribal districts.
Pakistan's army largely cleared militants from South Waziristan in a 2009 operation. Soldiers now are fighting militants in North Waziristan in operation Zarb-i-Azb that began in June 2014.
There was no immediate claim of responsibility for Monday's blast.