ICCI organizes awareness session on Men's Health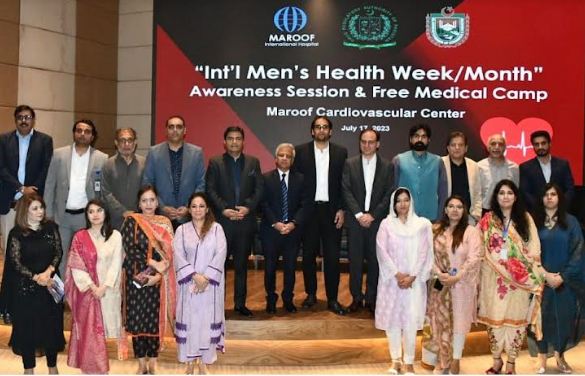 ISLAMABAD, JUL 18 /DNA/ – The Islamabad Chamber of Commerce & Industry (ICCI) in collaboration with Maroof International Hospital organized an awareness session on Men's Health to mark the World Men's Health Week. The session was followed by a medical camp to provide free vitals including BP, Sugar, Weight Check, Diet Plans and medical consultations besides performing free of cost lung tests. Asim Rauf, Chief Executive Officer, Drugs Regulatory Authority of Pakistan was the chief guest on the occasion.
Ahsan Zafar Bakhtawari, President, Islamabad Chamber of Commerce & Industry said that due to inactive lifestyles, many diseases including BP, diabetes, heart problems, cancer and hypertension are on the rise in society. He stressed that awareness sessions should be organized on a regular basis to sensitize the men how to cope with health issues and keep themselves healthy and fit. He said that a healthy nation would also contribute effectively towards increasing national productivity and improving the economy.
Speaking on the occasion, Asim Rauf, Chief Executive Officer, Drugs Regulatory Authority of Pakistan said men usually compromised their health in pursuit of fulfilling the responsibilities of their family members and delayed their surgeries to meet the expenses of their children like medical treatment or education. He stressed that men should pay more attention to their health that will enable them to take better care of their family members as well. He said that DRAP has been focusing on provision of quality medicines to the people for ensuring early recovery of patients.
Faad Waheed, Senior Vice President ICCI said that a number of men usually developed health issues due to overburdening themselves to meet the family needs and stressed that men should adopt a proactive approach and go for regular health screening to lead a healthy life.
Dr. Haroon Naseer, CEO, Maroof Hospital, Islamabad also addressed the session. Dr. Abdul Waheed Medical Director, Dr. Umar Idris Mufti Head of Cardiovascular Centre, Dr. Imran Ghani Interventional Cardiologist, Dr. Yasir Rehman Consultant Oncologist, Dr. Sohail Naseer Head of Critical Care Unit, Dr. Rashid Ali Khan Head of Psychiatry Department and Ms. Zubia Zubair Psycho Therapist of Maroof Hospital gave presentations on various health issues with tips on how to cure them. Engr. Azhar ul Islam Zafar, Vice President ICCI was also present on the occasion.
The Men's Health Week is celebrated every year to raise awareness of preventable health problems and encourage early detection and treatment of diseases among men and boys. The Week provides health care providers, public policy makers, the media, and individuals a good platform to come together and share ideas/ recommendations for developing a healthy society.