Huge protest scandal-hit S. Korea president to quit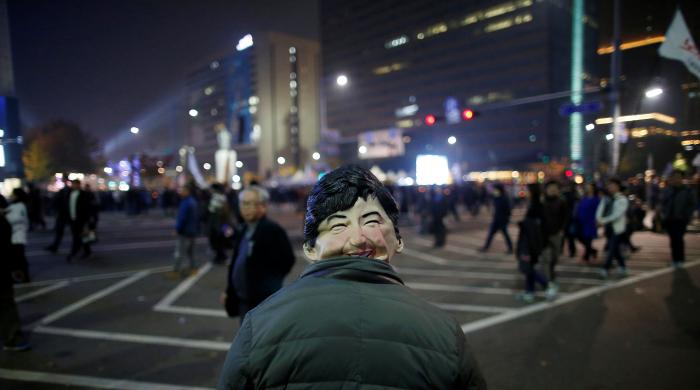 SEOUL, (DNA)  –  Tens of thousands of banner-waving protestors marched through the streets of Seoul on Saturday, demanding President Park Geun-Hye resign, a day after she apologised and accepted full blame for a crippling corruption scandal.
In one of the largest demonstrations seen in the South Korean capital in years, there was little sympathy for Park who, in an emotional televised address to the nation on Friday, had talked of her loneliness and "heartache" at the explosion of public anger in recent weeks.
"Her speech made me even more angry," said Park Mee-Hee, 44, who was marching with her teenage daughter.
"She kept making ridiculous excuses as if she was totally innocent. She should step down right now," she said.The scandal has focused on a close personal friend of the president, Choi Soon-Sil, who has been arrested for fraud and also stands accused of meddling in state affairs — including official appointments and policy decisions — despite holding no official position.
The crisis has shattered public trust in Park's judgement and leadership, and her approval rating has plunged to just five percent — a record low for a sitting president.
Police said more than 40,000 had turned out for Saturday's candlelight rally — more than double the size of a similar anti-Park protest the week before.
Organisers said the number was closer to 200,000, after a Seoul court overturned a police ban on the demonstrators marching along the city's main ceremonial boulevard.
Around 20,000 police were mobilised, but while the tone of the banners and slogans was angry, the event was largely peaceful, with many school and college students as well as couples carrying infants or walking with their young children.
Punching their fists in the air, they chanted "Resign Park Geun-Hye" and "You are under siege".
Choi Soon-Sil, 60, was formally arrested on Thursday on charges of embezzlement and abuse of power, but public anger has largely focused on the allegations that she interfered in government affairs.
The South Korean media has portrayed Choi, whose late father was a shadowy religious leader and an important mentor to Park, as a Rasputin-like figure who wielded an unhealthy influence over the president.
"I couldn't answer when my kid asked me who is the real president?", one speaker, a mother with three children, told the crowd at the rally.
"What is really irritating is the fact that Choi was acting like a regent for Park, controlling her decision-making", said 20-year-old political science student Kim Do-Hyun.
In an effort to restore a semblance of trust in her administration, Park has reshuffled ministers and senior advisers, bringing in figures from outside her ruling conservative Saenuri Party.
In her televised address, she agreed to be questioned by prosecutors investigating the charges against Choi, and sought to portray herself as an over-trusting friend who had let her guard down at a moment of weakness.
Her voice choking with emotion, Park said she had been living a "lonely life" as president and had turned to Choi for company and help.
"I trusted my personal relationship, but was careless and not tough enough with my acquaintances," she added.
The formal investigation is focused on allegations that Choi leveraged her close relationship with the president to coerce local firms into donating large sums to dubious non-profit foundations that she then used for personal gain.
Despite the mass protests and public apologies, Park is seen as unlikely to resign with just over a year of her single term in office left to run.
The main opposition party has threatened to agitate for her ouster unless she devolves more of her extensive executive powers, but it is wary of forcing an early presidential election it would not be confident of winning.
Whatever transpires, the very personal nature of the scandal has severely undermined Park's ability to govern, turning her into the lamest of lame-duck leaders at a time of slowing economic growth, rising unemployment and elevated military tensions with North Korea.
"I think she should step down as she has lost all her moral authority as president", one protestor, a 53-year-old who gave his family name Ahn, told media.