Hotel One Pvt. Ltd signs agreement with Century Ventures Pvt. Ltd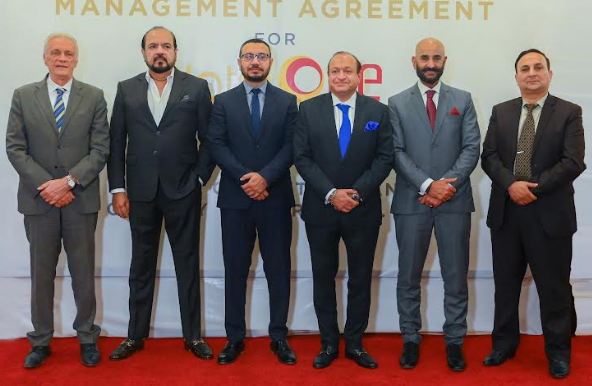 Islamabad, MAR 1 /DNA/ – To complement the Lahore residents' lifestyle, Hotel One will open another hotel in the city, in the upcoming Century Venture 1, located on MM Alam Road, Gulberg III. In this regard, Mr. Ahmed Iqbal Saeed, Vice President Operations, Hotel One and Mr. Ayaz Mohammad Lakhani, Director & CEO, Century Venture 1, had an agreement signing ceremony on Tuesday at Pearl-Continental Hotel Rawalpindi. Present at the event were Mr. Wasim Mazhar, Director, Century Ventures Pvt. Ltd and Mr. Jan Verduyn, VP Development, Hashoo Hotels among other associates and guests.
Mr. Ahmed Iqbal Saeed described the immense opportunities associated with Century Venture 1, the new residential and commercial complex of Lahore, for the business community and investors of the country. "We are delighted to collaborate with Century Ventures Pvt. Ltd. The upcoming complex will include Hotel One, spread across four floors, offering a variety of facilities and a high level of comfort. Brimming with high-end retail, lifestyle and dining options, Gulberg has become the most sought-after neighborhood in Lahore, thus making it a perfect location for launching yet another branch of the trusted brand of Hotel One," he added.
On occasion, Mr. Ayaz Mohammad Lakhani spoke about the development, "We will be delivering a world-class facility in Lahore, which shall become a hub of commercial and social activities. It will be a state-of-the-art landmark development, adding to the city's skyline. Being centrally located, the vertical complex is surrounded by a network of signal-free expressways and elevated corridors, offering direct routes to many different parts of Lahore. In addition, the complex will include Hotel One, a grand shopping mall with a food court, co-working spaces, Nirvana spa and salon, a rooftop walking track offering panoramic views of Lahore, a swimming pool, serviced apartments, and basement parking."
Since 2006, Hotel One has continued to set the standard in select service accommodation by delivering value, convenience, and reliability. With many hotels spread across multiple locations in Pakistan, Hotel One offers comfortable rooms with modern amenities, making it the ideal choice for business and leisure travellers.