Ambassador of Vietnam meets FCCI President Khurram Tariq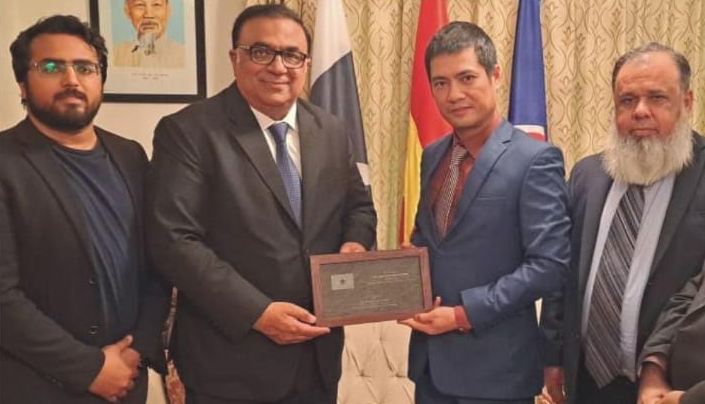 M.A Rashid.
FAISALABAD: Ambassador of Vietnam to Pakistan, Nguyen Tien Pong, has said that there are vast opportunities to increase bilateral trade between the two countries, which need immediate steps to take advantage of accelerating businesses. He was talking during a meeting with Faisalabad Chamber of Commerce and Industry (FCCI) President Dr. Khurram Tariq.
He said that there is a need for direct contacts between businessmen of Pakistan and Vietnam. He asked the president of the Faisalabad Chamber to provide him with a list of businessmen who want to do business with Vietnam so that he can get in touch with the businessmen in Vietnam.
Mentioning the trade opportunities between the two countries. He further said that Vietnam can export cotton to Pakistan while Pakistan can meet Vietnam's yarn and fabric needs. He elaborated condusivly that cooperation between the two countries can also be done in the areas of value addition for which coordinated efforts will be made. He also emphasized on creating facilities at the government level to increase mutual relations between the two countries and said that he will provide all possible cooperation in the exchange of delegations. Faisalabad Chamber of Commerce and Industry President Dr. Khurram Tariq told them about the economic strength of Faisalabad and said that Faisalabad Chamber is always ready to increase bilateral trade with Vietnam.
He also invited the Ambassador of Vietnam to visit the Faisalabad Chamber so that he can arrange a delegation of Vietnamese businessmen after assessing the potential of Faisalabad for himself. He also assured the Vietnamese ambassador of providing the list of leading trade organizations of Faisalabad. Faisalabad Chamber of Commerce and Industry Senior Vice President Dr. Sajjad Arshad was also present on this occasion.