Hospitality at its Best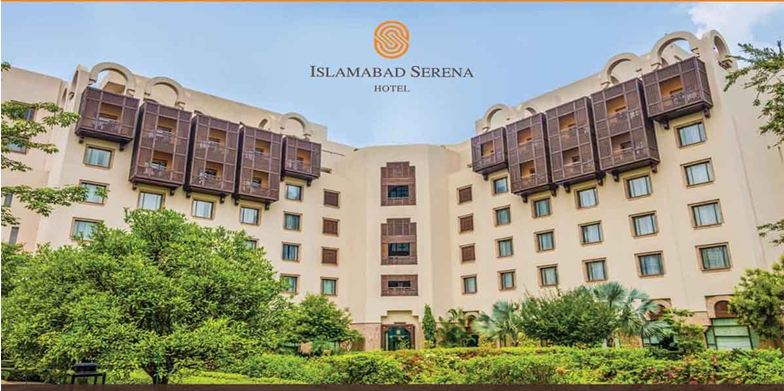 Munaza Kazmi
Traveling is a spiritual journey, it's about getting the first-hand experience, about knowing history, culture, people and their traditions whether along the warm nest of family or wandering in search of yourself.
Islamabad, the capital of Pakistan is one of the gorgeous cities among the world, offering some traces of history let's say Saidpur Village, a visit holy visit to Peer Mehr Ali Shah Golra, walking beside the wildlife in the crisscross hills of Margalla, a brief exhibition of the various cultures at Lok Virsa, sports, shopping, hoteling and much more. However, before making the itinerary for Islamabad one must be thoughtful about the choice of hotel.
Come with me to Islamabad Serena Hotel, where hospitality and luxury speaks itself.
Positioned at the base of the Margalla Hills directly next to the Diplomatic Enclave, on 14 acres of land with sublime gardens and peaceful shore of Rawal Lake, with a decent distance from Islamabad International Airport.
Visiting Islamabad Serena Hotel is more than just a comfortable stay at the 5-star deluxe hotel, it is vivid immersion into the culture, heritage, and lifestyle of Pakistan.A rich, vibrant showcase of classic design and décor, the architecture and interiors are a sheer display of traditional Pakistani culture perfectly portraying the art and craftsmanship of local artisans.  The 8 restaurants, 336 rooms and 51 suites at the Hotel inspire and soothe simultaneously, elaborated Islamic and Mughlai aesthetics are perfectly balanced with contemporary comfort. Custom-made furniture, arabesque marble patterns, ornate woodwork and splendid hand-woven carpets of the finest silk and wool thread infuse the space with a measure of local richness, whilst deluxe bedding and linens, Penhaligon's bath amenities, complimentary high-speed Wi-Fi, a colorful fruit basket and welcome drink upon arrival.Throughout your stay, the staff will provide the finest level of service and care, ensuring all your wishes and needs are met effortlessly; creating unique, personal and memorable experiences that will last a lifetime.
Deluxe Room:An oasis of tranquility, with views over the hotel's beautifully landscaped gardens and beyond the city. Offering the choice of a comfortable king or twin bed. With a working desk, safety deposit box and generously proportioned bathroom with luxurious bath amenities, this room ensures a truly relaxing stay. Moreover, beside with other amenities you will enjoy, a complimentary buffet breakfast in Zamana Restaurant, Airport transfers by the hotel and use of gym and swimming pool.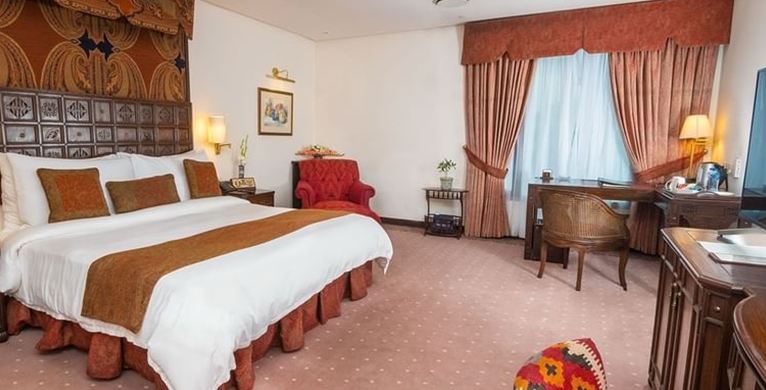 Executive Room:Mesmerizing views and top-of-the-line amenities. With this room, you can enjoy complimentary access to Nazara Executive Lounge, 4 complimentary pieces of laundry per day, free local calls and a daily local newspaper, plus gym and swimming pool at the Maisha Health Club. A good aspect is that, your spouse can stay free and enjoy all of the same amenities including daily buffet breakfast. Select between a king bed or a twin bed in rooms featuring a safety deposit box and an elegant attached bathroom.
Junior Suite features enchanting garden views, a king bed, a working desk, an elegant attached bathroom and a safety deposit box, along with a host of indulgent amenities. You can take advantage of complimentary access to Nazara Executive Lounge, work out, or swimming in the heated outdoor swimming pool at the Maisha Health Club. Also, complimentary 4 pieces of laundry per day, free local calls and complimentary breakfast buffet.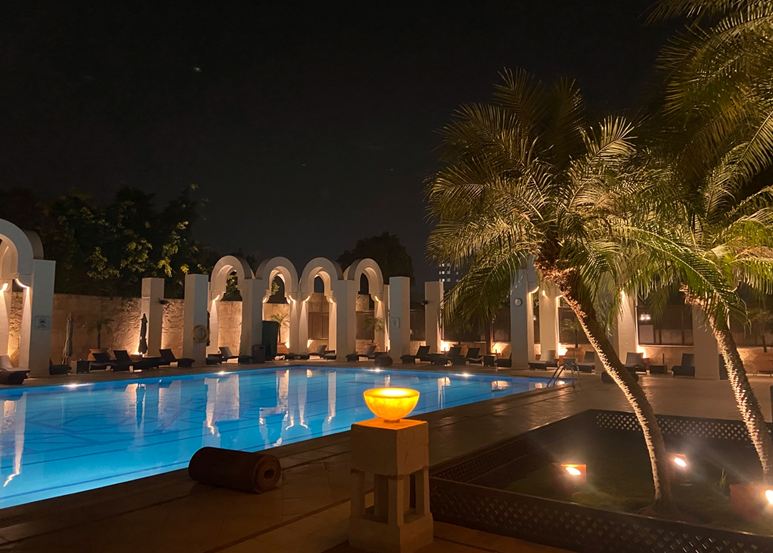 Executive Suiteoffers similar features as of Junior Suite, however it's a little more spacious and comfortable.
Presidential Suites with a private enclave encompassing an impressive 196.58 square meters of space. This extraordinary accommodation features the epitome of personalized service, and the fully furnished open air terrace, perfectly situated to provide breathtakingly beautiful views of the award-winning gardens.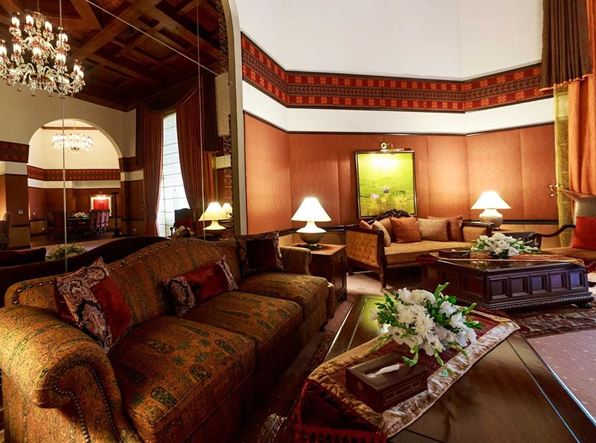 Renowned Pakistani architect Nayar Ali Dada meticulously designed this suite to be truly worthy of world leaders. Decorated with antiques and artwork throughout its parlor, dining room and master bedroom, the suite exudes status and opulence. Distinguished by a high ceiling adorned with majestic chandeliers and elegant wood paneling, the suite features a spacious master bedroom, a separate living and dining area, an exquisite working desk decorated in beautiful detail, a modern kitchenette and stylish marble bathroom with a modern rain shower and Jacuzzi.
The lavish interior of the suite combines custom-made furniture, arabesque patterns in marble, authentic woodwork, splendid hand-woven carpets of silk and the finest wool, and silk fabric wall paneling to create a sophisticated environment reflecting the rich culture of Pakistan. Moreover, for exclusivity the suite has a private driveway tucked amongst the serene landscaped gardens, and a private elevator provides guests security unrivalled anywhere else in the capital. Splendid!
Dining:Uniting the finest of traditional Pakistani cuisine with culinary concepts from the Middle East and cultures around the world, Islamabad Serena Hotel offers a distinctive range of restaurants from which to choose. Invites you to explore a diverse variety of gastronomy crafted by a skilled culinary team.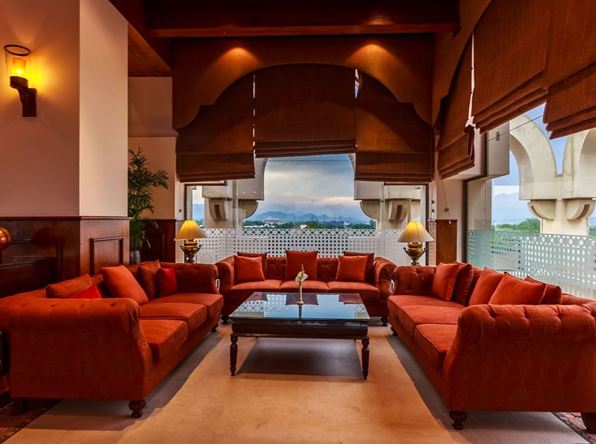 From casual buffet restaurants and relaxing bars to signature fine dining restaurants, each restaurant showcases the sophisticated settings and impeccable service that make the stay so unique.
A bakery and patisserie located at the lobby level near the shopping arcade. Stepping into Rakaposhi, you one can't help but enchanted by the rich aromas of freshly baked French pastries, cakes and breads, ice creams, flavored teas and specialty coffees. Choose for something a little more substantial, the club sandwich or beef tenderloin steak, perhaps, and pair your selection with one of the freshly squeezed juices or creative "mocktails."
Zamanais all-day dining restaurant serves buffet breakfast, lunch and dinner along with an a la carte menu. A fusion of ethnic Pakistani culinary specialties and sumptuous continental favorites crafts an unforgettable dining experience enhanced by views across the hotel's delightful water pools and gardens. You can choose from the à la carte menu or lunch and dinner buffets offering an array of specialty dishes.
On Sundays theRestaurant offers Brunch combining the finest international cuisines let's say Thai, Italian, Japanese, Chinese, Middle Eastern and Western along with traditional Pakistani specialties. Give your eyes the satisfaction of dishes cooked à la minute by chefs at live cooking stations, delivering food straight from the pan to the plate. Moreover, there's option of a sumptuous Hi-Tea from 4:00pm-6:00pm.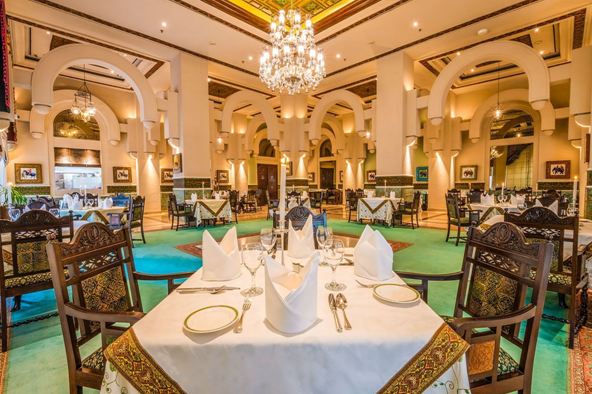 A mesmerizing dining journey in Dawat restaurant at Islamabad Serena Hotel. Where a meticulously crafted Pakistani menu with the signature warm hospitality and live music is waiting for providing you with a complete soulful experience.
Enjoy al fresco dining with live traditional music at Baradari, a seasonal outdoor restaurant serving traditional Pakistani BBQ meats including seekh kebab, fish tikka and chapli kebab along with delicious local dishes and freshly baked Tandoori naan.
Traditional Middle Eastern ambience awaits you in this exotically decorated restaurant with its intricate ceramic wall tiles and arched ceilings. Dinner at Al-Maghreb is a complete dining experience offering the opportunity to savor the myriad delights of Middle Eastern and Arabian cuisine. House specialties include the BBQ Lebanese mixed grill and lamb ayamzamam.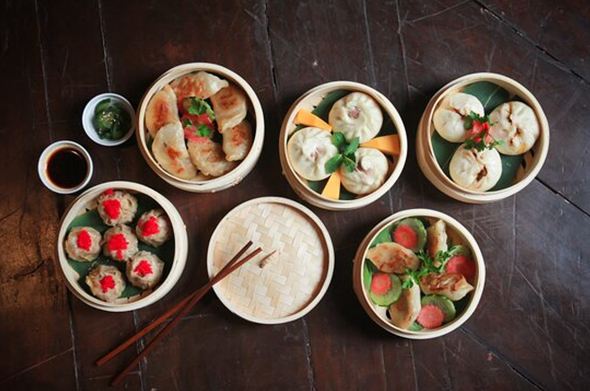 Exotic flavors of Thai, Indonesian, Japanese and Chinese specialties at Wild Rice, bringing together cuisines from Southeast Asia, the live station and picturesque views make Wild Rice an unforgettable dining experience.
Islamabad Serena Hotel combining the best of local culture and heritage with the amenities and services that discerning travelers seek, designed to make your holiday in Pakistan truly memorable.