High Commission of Malaysia hosts Merdeka Golf Challenge 2023 in Islamabad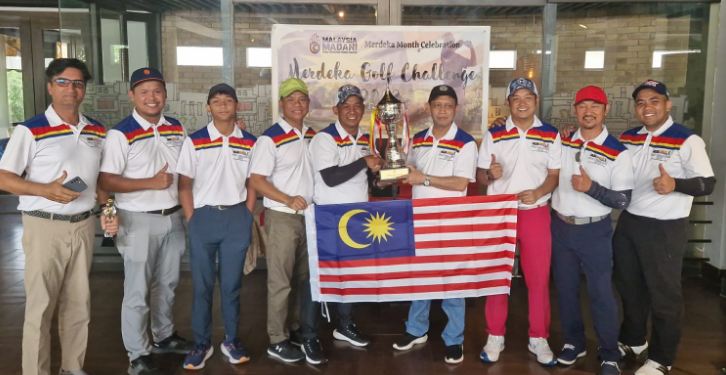 ISLAMABAD, Sept 2 /DNA/ – High Commission of Malaysia in Islamabad, under its Sports and Recreation Club (Kelab STMI), successfully organized the Merdeka Golf Challenge 2023 to commemorate Malaysia's 66th Independence Day on 31 August 2023. The golf tournament brought together the Home-Based Staff of the High Commission and Malaysians residing in Islamabad.
The tournament was held at the picturesque Bahria Golf City & Country Club in Islamabad. The event showcased not only the participants' remarkable golfing skills but also their exceptional sportsmanship, contributing to an exuberant and enjoyable atmosphere.
The Prize Giving ceremony, graced by His Excellency Ambassador Azhar Mazlan, High Commissioner of Malaysia, was held at the Street 1 Cafe in the Diplomatic Enclave. In his address, Ambassador Azhar Mazlan praised the tournament as an exemplary way to promote friendship and camaraderie through the medium of sports.
Colonel Noraripin Othman, Defence Adviser cum Club President, expressed his enthusiasm for this event, emphasizing that it was one of several sporting events planned for the Malaysia MADANI Independence Month. Future events will include cycling and bowling, promising even more excitement for the community.
Among the golfers, Mr. Mohd Nur Khairi emerged as the overall champion, capturing the title with exceptional golfing skills and unwavering determination. Second place was won by Mr. Nurhaikal, and third place by Mr. Kifayat. In addition, Mr. Khairul Anwar was honored with the title of "Best Future Player," recognizing his promising talent in golf, while Mr. Zulasri Rosdi earned the coveted "Closest to Pin" award after displaying accuracy in his shots.
The Merdeka Golf Challenge 2023 was a testament to the enduring spirit of friendship and sportsmanship displayed by the golfers. The event serves as a good platform for the High Commission to foster a stronger ties and sense of patriotism among the Malaysian community in Pakistan while celebrating Malaysia's 66th anniversary of Independence.